The First Sunday after the Epiphany: The Baptism of Our Lord Jesus Christ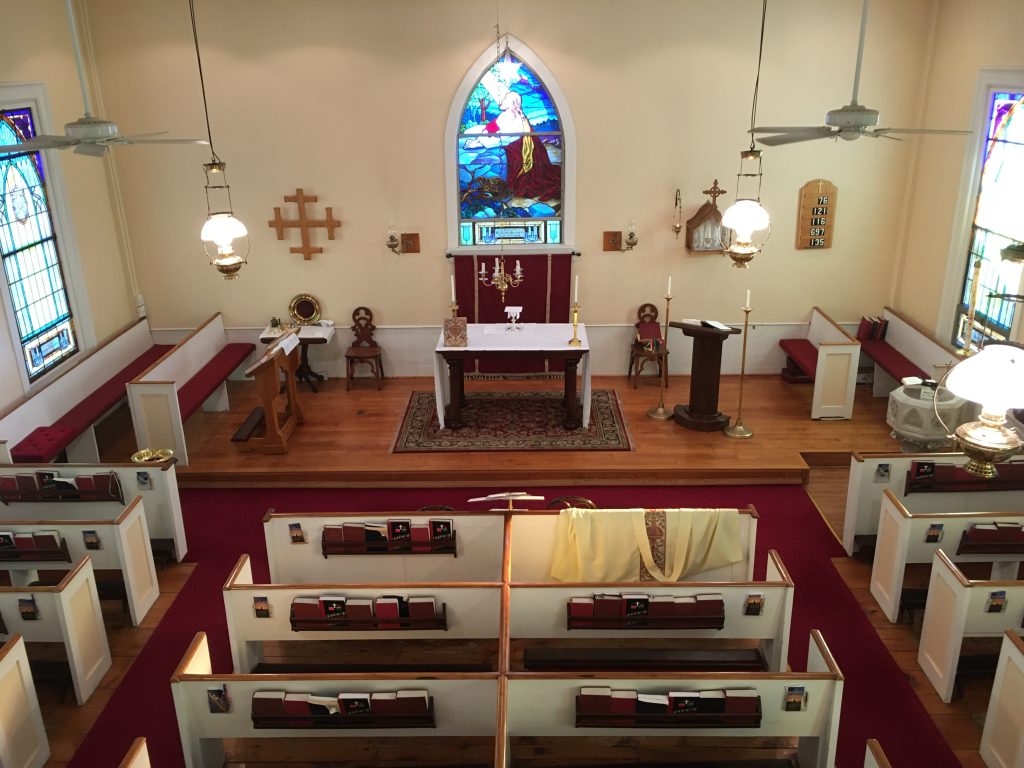 St. John's Episcopal Church Events: Jan. 2020
Mass ~ Sundays at 8am & 10am: Fr. Ronald R. Miller, Priest-in-Charge
Jan 2nd Filing of the 2019 Parochial Report opens (due to Diocese March 1st)
Jan 5th Open House at Fr. Ron's after 10am Mass
Jan 7th 9:30am Daughters of The King (DOK) Meets
Jan 7th 10:45am Prayer Group Meets
Jan 11th 9a-1p Thrift Shoppe Open
Jan 15th 10-noon & 5-7pm Free Winter Clothing Event
Jan 18th 9:00am Hamlin Clergy meets @ Salem Comm. Church
Jan 19th 11:30am Vestry Meeting at Church
Jan 20th * Parish Office Closed * Federal Holiday
Jan 21st 10:45am Prayer Group Meets
Jan 25th 9am-1pm Thrift Shoppe Open
Please Contact us anytime! Phone: 570-689-9260
Parish Office hours: Monday, Wednesday, Friday 10am-3pm
Email us: saintjohnshamlinpa@gmail.com
Please follow us on facebook, linkedIn and twitter
Website: saintjohnhamlin.org
Thoughts from our Priest-in-Charge:
6 January 2020 The Feast of the Epiphany for Western Christians Christmas Eve for Orthodox Christians
My dear people,
I greet you on this wonderful day in which we remember the arrival of the Wise Men from the East who came to worship Jesus, the infant Savior.
At mass yesterday, I mused a bit about those 'Wise Men.' I wondered what their gifts – apart from gold – might really mean to a genuinely poor family. Then, I wondered what good their visit did for them.
We have no record of those strange, foreign, and obviously very powerful and wealthy folks after their departure from the crib and return home.
My question was this: What, do you suppose – just how do you imagine – their visit changed them personally and those whose lives they affected, when they got back home?
I suggest that that is a question for each of us to ask of ourselves. We too arrive at the 'manger of the altar' (our place to counter the Savior 'really') and return home from that encounter, in the eucharist, all the time. We come to the 'manger of the altar' dressed in our finery and bearing gifts. Could it be that today we must be(come) the answer to the question about the Magi? Are we left to fill in the blanks of what it means for wealthy, empowered people dressed in fine silks and linens (and, in comparison to the world and its poor, we are they!) to encounter God in flesh – and that, in the flesh of a poor, human, Jewish infant? How, in fact, should our encounter with Jesus impact our lives and the lives of others with whom we live in God's world?
If we ask this question of ourselves, honestly and sincerely, maybe 'Christ-mass' will never be over – but on-going – for us, who call ourselves Christians, and who claim to accept the Messiah of Abraham, Isaac and Jacob as our own.
Bless you, each and every one.
Fr. Ron
---
5:30am December 31, 2019
My dear people,
I write to you as another calendar year comes to an end. There is, probably, nothing "new" about a 'New Year' which has not already been thought about by us as the church, since our new year began on the First Sunday of Advent.
I was just sitting here, thinking about enumerating 'things to be grateful for' – but decided instead [or because of that] to write to you!
My thought for the new year is this: If you're planning to make a "New Year's Resolution," I wish you well. And, if you're planning to make such a resolution and merely hope it will happen, my guess is, your chances at success will be little to none.
On the other hand, if you make a New Year's Resolution, and WORK to MAKE it happen, I have no doubt that your chances of success will be nearly – or even beyond! – 100%.
Every year, as a congregation, we retreat to make and plan goals for the short-, mid-, and long-term for our life together at St. John's. Every Sunday, we live out our intention to be and to become the church: the very Body of Christ!
As we continue to be intentional about who we are – and are becoming – as the church, I am sure we will not suffer the failure of waiting for resolutions to 'come true.' I AM CERTAIN, that as we CONSTANTLY WORK TO BE THE CHURCH, and work to MAKE OUR goals, plans, and resolutions happen, our success will be close to or beyond 100%!

God bless you in the celebration of God's gift to us in passing time and in others with whom to share it!
It looks as if the coming year will be one of very clear vision for all of us: "20/20."
Bless you, one and all,
Fr. Ron
---
27 December 2019
St. John the Evangelist Day
My dear people,
Christmas, as you know, has a duration of twelve days. But did you know, that the three days immediately following Christmas Day (in our calendars) are dedicated to remembering, on the 26th, St. Stephen, the first Christian martyr, on the 27th [today] St. John the Evangelist, and on the 28th the Holy Innocents martyrs, all the little boy babies killed by Herod in his insane rage to exterminate the Savior?
I am sure that it is not accidental that these days found their place in the calendar immediately after Christmas Day. The birth of Jesus and the proclamation of the Gospel HAD and still HAVE consequences for those who believe in Him. Stephen was the first one who was assassinated for his belief: he was a martyr in will and deed. John was not martyred but certainly would have been if that had been demanded of him: he was a martyr in will but not in deed. The Holy Innocents had no idea about faith, but suffered mightily for it: they were martyrs, not in will, but in deed.
Christmas, you see, is not just a 'birthday party for Jesus,' but a REALITY CHECK for us who call ourselves CHRISTIAN.
Proclaiming the Gospel today, is the same as it was 2,000 years ago. It is SPEAKING the TRUTH in LOVE to POWER. That has consequences, as we know. Will our celebrations of the INCARNATION – our belief that God inhabited flesh THEN, in Jesus, as well as NOW in us, the CHURCH, the BODY of CHRIST – encourage us to speak the truth of God's love for all people throughout the coming year and for the rest of our lives? I pray it will be so.
A point of personal interest about these days. My home congregation, in Allentown, PA was named St. Stephen's Evangelical Lutheran Church. The congregation I served during my student internship in the Bronx, NY (1971-2) was Sankt Johannes Kirche, an old German and then an integrated urban and primarily African-American Lutheran Church named St. John's. My first call was to a congregation in WNY, NJ (where I served for more than 24 years) which was called Christ-St. John Lutheran Church, having been a consolidation of a Swedish and a German Lutheran congregation (which was still worshiping in German when I began to serve there in 1975 and which continues to worship in Spanish – a ministry we establish in the mid-'80's). So you can see, the dedications of the congregations which have been so important in my life and formative of my ministry are significantly related to the the three days after Christmas. These days have always held a particular significance for me. I hope they will for you too.
God bless you in your on-going celebrations of Immanuel : God with us.
Fr. Ron
Please join us for worship each Sunday at 8am or 10am! Our Advent and Christmas Worship Schedule:
Fourth Sunday of Advent, December 22: Mass at 8 am and 10 am and "greening" of our church
Candlelight Christmas Eve Worship, Tuesday, December 24 at 10pm
Christmas Day Worship, Wednesday, December 25 at 10 am
1st Sunday of Christmas, December 29: Mass at 8am and 10 am ~ Service of Lessons and Carols at 10am
2nd Sunday of Christmas, January 5, 2020: Mass at 8am and 10am ~ Open house at Fr. Ron's to follow
---
Thought from our Priest-in-Charge:
December 20, 2019
My dear people,
As we prepare to RECEIVE [yes, in Christmas, as the church WE receive what GOD GIVES!] God with us – let us remember that God gives us those folks who, according to Jesus, are "ALWAYS WITH US": the poor, the dis-enfranchised, immigrants, orphans, the widowed, asylum seekers, etc.
In Christmas, we remember not only a baby but a man whose beliefs, about God and God's love for ALL PEOPLE, cost him his life.
I ask you to accept the gift of this article from my Lutheran tradition which just came today from the LUTHERAN WORLD FEDERATION.
I ask you to pay particular attention to the answer Bishop Hutterer gives to the question, asked below: How does populism and hate speech affect your church?
God bless you in your receiving,
Fr. Ron
https://www.lutheranworld.org/news/gods-gifts-care-our-neighbor?ct=t(EMAIL_CAMPAIGN_20190719_COPY_01)
God's gifts to care for our neighbor
PHOENIX, United States/GENEVA | 20/12/2019
Voices from the Communion: Bishop Deborah Hutterer, ELCA
(LWI) – Rev. Deborah Hutterer was elected Bishop of the Grand Canyon Synod in the United States in September 2018. The synod of the Evangelical Lutheran Church in America (ELCA) contains counties in Nevada, Utah and Arizona, a state bordering Mexico, where the church is assisting migrants. In this interview with Lutheran World Information, she talks about this ministry, changing populist rhetoric, and being open to change. How do you experience the cross-border migration? Before I became bishop, I worked with Lutheran Social Services (LSS). The government asked LSS to help with the reunification of migrant families who had been separated at the border and then put into detention. When it became public, the government was under a court order to put them all together. When people arrived, they had only been reunited with their children for a couple of hours, sometimes even minutes. We tried to create a safe and welcoming space, and asked pastors who spoke Spanish to be available. I remember a mother, who had just been reunited with her child. The mother would not let go of the child, but when she and the pastor were talking, the child came out from behind the mother, tugged on the pastor's shirt and asked: Pastor, where have you been? Isn't that the question for the church: Where have we been? As Bishop of the Grand Canyon Synod, how did you continue that ministry? When ICE (Immigration and Customs Enforcement) dropped thousands of migrants in the streets of Phoenix last summer, we opened churches at night so they had a safe place to sleep, food, and transport to their relatives in the US. Now the law has changed, you can no longer enter the US if you have crossed through another country. If you come from El Salvador, Honduras or Guatemala, you have to apply for immigration in Mexico. We have a joint Episcopal and Lutheran ministry at the border in Nogales, Mexico, providing shelter for people waiting for their interview. The place holds about 70 people, who stay 5-6 weeks. We make sure that while they wait, they are treated humanely, and safe. Some people are trying to escape drug cartels and sex trafficking. Everyone has a different story, but we do know that some people are seeking asylum to escape violence. The problem is, we are trying to fix the system, but these are people standing right in front of us. What did God give us to do to care for the neighbor, who is right in front of us? How is this work perceived in the congregations? I think the personal exchanges help people to see that migrants are not so different from us. Sometimes, people in political position say that people who seek asylum or who are migrating are terrorists, or drug dealers. Having these interactions, helps see each other as human beings and understand humanitarian needs. We plan to bring people across the border, to challenge the stereotypes and to give them good solid information. We hope that they will take these stories back to their congregations. How do you fund this ministry? Lutheran congregations in Nevada and Arizona have collected money, clothing and shoes, even toys, so that we can help people wait for their interviews with immigration more comfortably. People usually come with the clothes they are wearing only. The money is used to pay the rent on the Mexican side and buy the food that is needed. As a synod, congregations and individuals who have a heart for this ministry provide funds and donations that go to direct support. How does populism and hate speech affect your church? It's a very difficult time. I've heard pastors tell me that whatever they say, it can be interpreted as political, and then people will get angry. When ELCA made a decision to become a sanctuary denomination, people left our church. It is my hope and my prayer that there will also be people who will come, because the church stands for these things. We also need to bring a sense of humility to admit that we see but one part of a picture, which is very complex and layered. It is only in conversation with each other that we will get a better view of that picture. I try to stick with facts, and to create spaces where we might learn from each other, and understand that it is OK to disagree, but to do that respectfully. How does being part of the LWF communion influence your work? To participate in the Retreat of Newly Elected Leaders has been a real privilege. While I am very different from my colleagues in India, Korea or Ghana, we are also very much alike. ELCA is a wealthy church, but we have the same problems as the churches that have fewer resources. Understanding that we are church together will broaden our perspective to be a global church. I am also hoping that meeting some of my colleagues who have doubts about female clergy might make them think that female clergy are also a gift to the church. The other thing that I find helpful is really lifting up the topics that are giving us a way to be the body of Christ: gender justice, climate justice, care of creation, immigration, refugees. Many church leaders talked about attracting young people. How do you go about that? In a larger sense, it is time that people lack. You could choose so many other things. How do we connect church on Sunday to everyday life? Young people are looking for this real-life connection between the gospel and the world. That's why the discussions we had here about the priesthood of all believers and living your faith have been valuable.
All too often, we invite people and want them to be like us. We will be different if we continue to engage with people who are not over 70 years old and white. Remembering that will be helpful for the church. —

Bishop Deborah HUTTERER, ELCA Grand Canyon Synod
It is also important to be honest about the realities. Saying all are welcome will mean that when you come to our door, we are going to change. All too often, we invite people and want them to be like us. We will be different if we continue to engage with people who are not over 70 years old and white. Remembering that will be helpful for the church. What does it mean for you to be the church today? Now, there is an easy question! A part of this is about proclamation, we need to be witnessing to Jesus in word and deed. There are churches that are doing many social ministries, but sometimes we forget to say that we do this, because God loves us, and we love our neighbor. The book of Acts is one of my favorite stories, because the first Christian churches would communicate why they did what they did. Sometimes being church means letting go of the old and trusting God will create something new. That is scary, because you only know what you know, and it requires trust in God. Part of being the church is looking at and pointing to these new things God is doing.
Voices from the CommunionThe Lutheran World Federation is a global body that shares the work and love of Christ in the world. In this series, we profile church leaders and staff as they discuss topical issues and set out ideas for building peace and justice in the world, ensuring the churches and communion grow in witness and strength.
---
December 16, 2019
My dear people,
Greetings to each of you as our journey through Advent continues and our path to celebrate Christmas shortens.
Yesterday was a first at St. John's. We used the new rose colored vestments for the first time. Rose, as you know, is used on only two Sundays in the year: the third Sunday in Advent and the fourth Sunday in Lent, when the penitential seasons are 'lightened' a bit. This is a behavior which results from the old established liturgical practice when the Introit, in Latin, for Advent III, began with the word GAUDETE, which means REJOICE! And so we did – in color – in music – in motion – in light (St. Lucy's crown was burning bright at the altar, too) – and in spirit.
In thinking about the Gospel for the day, I made reference to Richard Strauss' opera Salome, and got my characters mixed up. For the operatically fastidious, here's the correction: HERODES is the Tetrarch of Judaea and Perea and HERODIAS, is his wife (and his sister-in-law). The point of all of it is the times were as bad then as they are now; and BOTH Jesus and his forerunner, John, came with messages about repentance (i.e. 'turning around' toward God and away from worshiping false gods) and the radicality of God's love for all people: especially the disenfranchised, the infirm, the powerless, the homeless, the refugee, etc. We remembered that in his very early life, Jesus himself was a refugee – fleeing Herod's insane wrath and fear of the "King of the Jews." We also reflected on prevailing attitudes today, in our nation and culture, about such folks in our own world and neighborhoods. We acknowledge that we need to keep working on our own attitudes, beliefs, policies and positions toward others who suffer in the same ways today, if we are going to be faithful to the Gospel we profess to believe. As the "Body of Christ" we have the example of the life of Jesus to follow. And in yesterday's Gospel, there were poignant, self-reflective words of Jesus about how his message and John's message might be received. In Matthew 11, we read: "And blessed is anyone who takes no offense at me." There is apparent self-awareness on Jesus' part that the Good News of God's love for ALL people was going to be problematic! And we know how problematic that became for John, who was de-captiated, and for Jesus who was crucified, for no other reason than the love of God – and believing that God's love belongs to all!
So, friends, getting ready for Christmas – getting ready for God to be with us and born in us today – is serious business! The road of living out our faith may be a rough one. But we have this assurance, that it leads to joy as nothing else can. So get ready to come and adore HIM, Christ, Our Lord!
In the name of that same Christ, I wish you rich blessings,

Fr. Ron
---
December 9, 2019
My dear people,
First of all, a sincere word of gratitude to each and every one of you for the generous holiday gift presented to me on Sunday. What a typically generous act on your part. Thank you!
Second, a few reminders:
1. Friday the 13th is St. Lucy Day, when we remember a legendary woman known as a bringer of light into darkness and warmth into the frozen north. Much celebrated by the Swedes [yes, mostly Lutherans!], who celebrate the tradition that a vision of this Italian Saint who was martyred for her faith was seen as an apparition on a frozen lake on the shortest day of the year (then believed to be December 13th). The Scandinavian custom in this day is for the oldest daughter in the household to rise before dawn, dress in a white robe (purity) with a red sash (the blood of martyrdom) and burning candles in her hair and to serve coffee and special buns to the rest of the family still asleep in their beds. Sometimes, her crown of lights appears at St. John's. Who knows?
2. This coming Sunday is ROSE SUNDAY – formerly known by its Latin title GAUDETE, which means REJOICE. This name comes from the old Introit of the mass which reads: "Rejoice in the Lord always; again I say, rejoice. Let your forbearance be known to all, for the Lord is near at hand; have no anxiety about anything, but in all things, by prayer and supplication, with thanksgiving, let your requests be known to God. Lord, you have blessed your land; you have turned away the captivity of Jacob." Philippians 4:4–6; Psalm 85 (84):1" For this reason, the color of the day lightens from violet to rose and the 'spirit' of the liturgy 'lightens up' a bit to!
3. In celebration of ROSE SUNDAY, I ask that this Sunday you bring to church the figures of the Christ Child from your home creches and nativity sets for a "blessing," to make a connection between the altar at church and the altar in every heart, in every home and at every dining table where Jesus can potentially be born again as "Immanuel," i.e. "God with us!" This is a sweet tradition which is practiced by the Pope in Rome on this Sunday. It has significant potential for our use as well. So, let's really enjoy this tradition together.
4. On Sunday, the 22nd, you're welcomed to help decorate the church for Christmas after the 10am mass.
5. Tuesday – 24 December – Christmas Eve, 10pm mass.
5. Wednesday – 25 December – Christmas Day, 10am mass.
6. Sunday – 6 January 2020 – Pot-Luck Open House at my home after the 10am mass. Everyone is welcome!
7. PLEASE remember to assist our FINANCIAL PLANNING for the new year, by returning your INTENDED GIVING cards, so we can continue to plan reasonably and generously for the new year, just as we have done – and done so well – in the past. Either put them in the offering plate on Sunday or send them into the office. Thanks, and thanks again!
God bless you in your preparations for and celebrations of the NATIVITY of JESUS and the INCARNATION of CHRIST.
Fr. Ron
December 6, 2019
My dear people,
Happy St. Nicholas Day. I'm forwarding a biography of today's saint which I found on the internet.

https://www.biography.com/
Saint Nicholas
Reputation
There are many legends about Saint Nicholas of Myra. One story tells how he helped three poor sisters. Their father did not have enough money to pay their dowries and thought of selling them into servitude. Three times, Saint Nicholas secretly went to their house at night and put a bag of money inside. The man used the money so that one of his daughters could marry. On the third visit, the man saw Saint Nicholas and thanked him for his kindness. He also reportedly saved three men who were falsely imprisoned and sentenced to death.
Death and Legacy
Several sources state Saint Nicholas is believed to have died on December 6, 343. Over the years, stories of his miracles and work for the poor spread to other parts of the world. He became known as the protector of children and sailors and was associated with gift-giving. He was a popular saint in Europe until the time of the Reformation in the 1500s, a religious movement that led to the creation of Protestantism, which turned away from the practice of honoring saints. Saint Nicholas, however, remained an important figure in Holland. The Dutch continued to celebrate the feast day of Saint Nicholas, December 6. It was a common practice for children to put out their shoes the night before. In the morning, they would discover the gifts that Saint Nicholas had left there for them. Dutch immigrants brought the legend of Saint Nicholas, known to them as Sint Nikolaas or by his nickname, Sinterklaas, to America in the 1700s. Saint Nicholas went through many transformations in America: Sinterklaas became Santa Claus, and instead of giving gifts on December 6, he became a part of the Christmas holiday. In the 1820 poem "An Account of a Visit from Saint Nicholas" by Clement Clarke Moore, he is described as a jolly, heavy man who comes down the chimney to leave presents for deserving children and drives a sleigh pulled by flying reindeer. The cartoonist Thomas Nast added to the Saint Nicholas legend with an 1881 drawing of Santa as wearing a red suit with white fur trim. Once a kind, charitable bishop, Saint Nicholas had become the Santa Claus we know today. In 2017, a team from the University of Oxford radiocarbon tested a fragment of a pelvic bone said to be from Saint Nicholas. The test confirmed that the bone fragment, owned by an American priest, dated from the saint's era. Archaeologists then hoped to match the bone to others purportedly belonging to Saint Nicholas, including those housed in a crypt in Bari, Italy, since the 11th century. ==================
Since we appropriate so much 'legend' at this time of year, I think it is important that we also re-call their origins [sometimes buried too deeply in the past] and re-member [i.e. 'put back together'] what it is we celebrate and intend to communicate at this time of the year which the church calls Advent and Christmas.
Known as the "protector of children and sailors," St. Nicholas invites us —- – today especially, in the midst of all our 'preparations' – to remember both children and sailors.
So, today, let us remember the children at our borders who seek safety and asylum in our country just as the Holy Family did when they fled to Egypt with the infant Jesus hoping to escape the insanity of a mad, power-grasping, hateful, fear-filled Herod. Let us pause today to ask how we ought to be responding to those who seek succor and asylum in the "Egypt" of our own land today. Let us remember children in war zones. Let us remember children used in human trafficking. Let us remember orphans. Let us remember abused and un-loved children everywhere. Let us pause to consider how we as a church and a nation ought to be responding to CHILDREN seeking ASYLUM among us today. How do our attitudes about these little ones compare with Nicholas'?
Today, let us also remember those who navigate the seas and bring asylum-seekers to our shores. Today, let us remember: As the M.S. St. Louis cruised off the coast of Miami in June 1939, its passengers could see the lights of the city glimmering. But the United States hadn't been on the ship's original itinerary, and its passengers didn't have permission to disembark in Florida. As the more than 900 Jewish passengers looked longingly at the twinkling lights, they hoped against hope that they could land. Those hopes would soon be dashed by immigration authorities, sending the ship back to Europe. And then, nearly a third of the passengers on the St. Louis were murdered. Most of the ship's 937 passengers were Jews trying to escape Nazi Germany. Though World War II had not yet begun, the groundwork for the Holocaust was already being laid in Germany, where Jewish people faced harassment, discrimination and political persecution. But though the danger faced by the passengers was clear, they were turned down by immigration authorities, first by Cuba, then the United States and Canada. For many on the St. Louis, that rejection was a death sentence.
Let us ask – today especially – do the saints we remember and the God we worship have anything to say to us about our attitudes toward others [especially those who are 'different' and those who are in need] and how we live in our world today. Do we really understand "Immanuel" to mean "God is with us" – right now, right here – or not?
If our current 'busy-ness' is not about the things that we believe about God being 'born in us today,' then 'Christmas' runs the risk of becoming pretty much of a sham and a self-indulgent, romanticized excuse for an emotional 'jag' which does no one any good and might even lead to significant emotional and physical harm to ourselves and others. So then, let us "prepare the way of the Lord" rather than that of anyone else!
O come, O come, Immanuel and Lighten our Dark World.
Bless you,
Fr. Ron
Thoughts from our Priest-in-Charge:
3 December 2019
My dear people,
I have been away, and we have been, for a little while, apart. Sunday, most of you, were safely at home, huddled against very threatening weather, and so we were still, for the most part, apart. There were, however, eight folks who gathered at St. John's for the mass at 10am. And, although nobody came at 8am, I was there. I lit the first Advent candle. And, in an empty church, I prayed the Great Litany, aloud. I leave it to your imagination whether I did that "in procession" or not!
Let me be clear. There are no special 'brownie points' for having been there – or self-righteous demerits for not having been there. I'm delighted that adults can make choices about personal safety and corporate worship on their own, and without judgment. My issue is an understanding of the church as an institution of "permanent availability." And as the called and ordained priest-in-charge at St. John's, I believe it is my duty (and it is my delight, as well) to make sure that public worship is offered and available at regularly-scheduled times, and particularly on Sundays, and, as much as possible, circumstances notwithstanding. The point is this, our ministry needs to be as much available to as many as may come and, as much as is possible, at 'all times and in all places and under all circumstances.' That's the point. And although there were 'only' eight of us, your job of supporting the church as an "institution of permanent availability" was done on Sunday, when the front doors of St. John's were unlocked, whether or not you were able to be there. I can tell you confidently that the Spirit was – as always at St. John's – among those who did gather and Christ was surely present, not only among us there, but with those at home, as well. Thanks to each and every one of you for helping to make that happen.
While away, I had wonderful experiences in Dublin, London, Bristol, Lancaster and Stratford-upon-Avon. As you know, the purpose of the trip was in answer to an invitation to attend the installation of the new Dean at Westminster Abbey, which I did. I carried and presented greetings from our own Bishop Kevin and my Lutheran Bishop of the New Jersey Synod, ELCA. Details will follow when I speak with you personally.

Now, a few items for the up-coming holiday season which is hard upon us.

Sunday 15 December – Advent III
Bring your figures of the Christ Child from your domestic creches for the "BLESSING of the BAMBINELLI." A sweet custom of connecting the altar in the church to the altar of the home.
[By the way, on the same day, I have been invited to conduct a German-language service at St. John's Lutheran Church in Honesdale at 4pm. You're welcome to join me for that!]
2. Sunday 22 December – Advent IV After the 10am mass, everyone is welcomed to the 'Greening of the Church' in preparation for the Christ Mass.
3. Tuesday 24 December – Christmas Eve 10pm Mass
4. Wednesday – 25 December – Christmas Day 10am Mass
5. Sunday – 5 January 2020 Pot-Luck Open House for all, in my home, after the 10am mass.
May you continue to experience the Spirit and Christ's presence with you as you continue to live through Advent toward Christmas.
Blessings,
Fr. Ron
Please join us for worship each Sunday at 8am or 10am! Our Advent and Christmas Worship Schedule:
First Sunday of Advent, December 1: Mass at 8 am and 10 am at St. John's – Blessing and Lighting of the Advent Wreath/Lighting of the Moravian Star
Second Sunday of Advent, December 8: Mass at 8 am and 10 am at St. John's
Third Sunday of Advent, December 15: Mass at 8 am and 10 am at St. John's -Blessing of the Bambinelli – please remember to bring your "bambinelli" (or figures of the Christ Child) to church from your crèches at home. We will have a BLESSING OF THE BAMBINELLI within our worship service that morning
Fourth Sunday of Advent, December 22: Mass at 8 am and 10 am at St. John's and "greening" of our church
Candlelight Christmas Eve Worship, Tuesday, December 24 at 10pm at St. John's
Christmas Day Worship, Wednesday, December 25 at 10 am at St. John's
1st Sunday of Christmas, December 30: Mass at 8am and 10 am at St. John's ~ Service of Lessons and Carols at 10am
2nd Sunday of Christmas, January 5, 2020: Mass at 8am and 10am at St. John's ~ Open house at Fr. Ron's to follow
---
St. John's Episcopal Church Events; Dec. 2019
Sunday: Mass at 8 and 10am; Fr. Ronald Miller, Priest-in-Charge
Dec 1 8 & 10am First Sunday of Advent – Year A
Dec 3 9:30am Daughters of the King meets in Parish Hall
Dec 3 10:45am Prayer Group meets in Parish Hall
Dec 8 8 & 10am Second Sunday of Advent
Dec 14 9am-11am Cookies Galore Sale in Parish Hall – Call 570-689-2441, Sandy Toy for pre-orders by 12/9/18
Dec 14 9am-1pm Thrift Shoppe Open
Dec 15 8 & 10 am Third Sunday of Advent, Blessing of the Bambinelli
Please be advised that there will be no Vestry meeting in December. Our next meeting will be Jan. 19th.
Dec 16 Deadline to order roses and provide written dedication, if desired
Dec 17 10:45am Prayer Group meets in Parish Hall
Dec 18 10a-12p & 5-7p Free Clothing Event at Thrift Shoppe
Dec 22 8 & 10am Fourth Sunday of Advent
Dec 22 11am Greening of our Church – bring Christmas plants for altar, if desired
Dec 24 10pm Candlelight Christmas Eve Mass; Roses to be placed on tree
Dec 25 10am Christmas Day Mass ┼
Dec 28 Thrift Shoppe will not be open
Dec 29 8 & 10am 1st Sunday of Christmas; 10am Service of Lessons & Carols
---
Thoughts from our Priest-in-charge:
4 November 2019
My dear people,
We had a wonderful Sunday at St. John's. Attendance approached 50 faithful. Our stewardship campaign concluded with a beautiful and delicious pot-luck luncheon. And, the news was good. Although there are about 14 regular contributors who have not yet registered their intention, those who have have met our giving levels of last year. Congratulations and bless you one and all for helping to take the guess work and risk out of financial planning for St. John's, for yet another year. If you have not yet returned your intended giving card, you may either place it in the offering plate or send it directly to the church. Your commitment to the proclamation of the Gospel, through the ministry of St. John's congregation is impressive and beautiful. Thank you!
Also, yesterday, we encountered, in the Gospel, a "wee little man" named Zacchaeus. Zacchaeus was a tax collector. Essentially he was a crook, who was on the "take." He was a flunkie and functionary of the Roman empire. And, although a Hebrew, he betrayed his own ideals and morals and his people by his dishonest life and love of money and power.
Surely, Zacchaeus was not just "short in stature" as St. Luke reports, he was also a "small man" in the psychological sense, in that he had a poor and un-healthy self-image; he was a "small man" in the sociological sense, in that he betrayed and was despised by his own people as he took financial advantage of them and despised their communal and moral values. He was a "small" duplicitous man. He could not be trusted. He lied. He was – in no uncertain terms – a sinner. Zacchaeus was really and essentially, psychologically, socially, morally and ethically 'up a tree!'
Now, Zacchaeus, did not know who Jesus was. But, he "was trying to see who Jesus was." He was attracted by the hub-bub. But when Jesus encounters Zacchaeus – up his tree – Jesus knows exactly who Zacchaeus is. He calls him by name. And Jesus INSISTS upon going home with Zacchaeus. Jesus says: "I must stay at your house today."
Now, there are two things about this insistence by Jesus to be a guest in this egregiously sinful man's home.
The first is:
The hypocritically religious people were outraged and incensed. Despite the fact that those people had known from a long time before that God was outraged at their hypocrisy. As we read in Isaiah, God said to them: "I have had enough of burnt offerings of rams and the fat of fed beasts;I do not delight in the blood of bulls, or of lambs, or of goats. When you come to appear before me, who asked this from your hand?" All their 'religious behavior and attitudes' were repugnant to God and still are!
God tells them what true religious behavior is. He tells them: "Wash yourselves; make yourselves clean; remove the evil of your doings from before my eyes; cease to do evil, learn to do good; seek justice, rescue the oppressed, defend the orphan, plead for the widow."
Apparently God was as disgusted and appalled by the religious hypocrites as the religious hypocrites were of Zacchaeus' sinfulness!
Here's the difference. The religious hypocrites thought they deserved God's admiration and that God was already at home with them. They did NOT believe God's 'presence' was God's gift to them, but their just deserving. They also thought that God condoned and encouraged their bad, hypocritical, arrogant, hateful, racist, exclusionary attitudes toward the rest of the world – the other nations.
Zacchaeus did not. Zacchaeus was up a tree and knew it. He had placed himself in a position from which he could not get down without falling. So Jesus catches him – by asking to go home with him.
The second is:
When Zacchaeus comes out of his tree and Jesus goes home with him, Zacchaeus KNOWS he is NOT 'worthy' to be the host of such a guest as Jesus! Zacchaeus' sense of himself as a sinner is underwritten and exacerbated by the attitudes of the religious community toward him: the poor, miserable sinner that he was! But here is the astounding reality: Jesus who knows Zacchaeus by name, knows his reality. Jesus knows better than anyone else in the world that Zacchaeus is really 'up a tree' and can't get out! And despite all of Zacchaeus' self-loathing and the hypocritical criticism of the 'religious community,' Zacchaeus takes Jesus home with him. And it is then, that Zacchaeus changes. It is then that Zacchaeus begins to love and worship the creator of all things and all people. It is then that Zacchaeus' attitude towards things and people changes because his understanding of God has changed.
You see, Jesus teaches about a loving creator God who is worlds different from the kind of "Santa Claus in the sky" god who rewards "good religious" people and punishes other "bad" people. Rather, Jesus' example is of a God who goes home with real and sinful people who are in need – real need – like Zacchaeus'!
Jesus shows his sense of a God who choses to live in and with the creation – all of it and all of us. Jesus teaches about a creator God who loves all of creation, completely, divinely and incessantly, and forever. Jesus' God is certainly no Santa Claus!
Jesus' understanding of God changes Zacchaeus and it changes us.
This is why we worship as we do. At mass we allow God into us through our ears in the proclamation of the Gospel. At mass we take God into us through our very guts, in the reception of the sacrament. It is then that we too, along with Zacchaeus, take – however unworthily – God home with us to change us into the forgiven, loving Zacchaeuses of our own day and our own time.
When Jesus goes home with us, we are changed. And in being changed by a loving God, we become parts of God's blessing to others in need – however unworthy they may seem to the hypocritically religious!
Bless you, as you are the blessing.
In Christ,
Fr. Ron
---
St. John's Episcopal Church Events for Nov. 2019, Sunday: Mass at 8 and 10am – Fr. Ronald Miller, Priest-in-Charge
Nov. 3 2am Daylight Savings Time Ends, turn clocks back one hour before retiring Saturday, Novemberer 2
Nov. 3 11:30 am Stewardship Sunday luncheon-contact Ellaina for what dish you may contribute: ellainakennedy@gmail.com
Nov. 5 9:30am Daughters of the King (DOK) Meets in Parish Hall
Nov. 5 10:45am Prayer Group Meets in Parish Hall
Nov. 9 9am-1pm Thrift Shoppe Open
Nov. 11 Veteran's Day – Parish Office closed – God Bless our Veterans
Nov. 13 10-noon & 5-7pm Free Clothing Event at the Thrift Shoppe
Nov. 17 8am & 10am The Rev'd. Earl Trygar presiding
Nov. 17 11:30 ish Vestry Meets
Nov. 19 10:45am Prayer Group Meets in Parish Hall
Nov. 23 9am-1pm Thrift Shoppe Open
Nov. 24 8am & 10am The Rev'd Daniel Jones presiding
Nov. 24 2pm Ecumenical Thanksgiving Service at St. Thomas More RC church Pastor Chuck Consagra from Lake Ariel UMC –guest speaker; food pantry items will be invited for offering
Nov. 28 Thanksgiving Day
Phone: 570-689-9260
Office hours: Monday, Wednesday, Friday 10am – 3pm
Email: saintjohnshamlinpa@gmail.com
Website: www.saintjohnhamlin.org
Please follow us on Facebook, LinkedIn and Twitter
---
THOUGHTS FROM OUR PRIEST-IN-CHARGE:
Sunday, 27 October 2019
My dear people,
Two baptisms contributed to an attendance which got close to 70 people, yesterday. It feels good when the church is filled – especially on a Sunday morning when the weather was as unpleasant as it was. The children and the 'crowd' really brought the sunshine.
We thought a good deal about baptism and what it means. We quickly de-bunked the 'hocus pocus" idea that the sacrament's purpose is to save babies from going to purgatory or hell if they died before they were "Christened" or made into Christians by the mechanics of a religious rite.
We thought instead about the unmitigated love of the Creator God, for all of creation, and for all who live in it. We talked about ourselves – the baptized – as the un-deserving recipients of God's grace. And we dealt with the parable in Luke 18:9-14 of the self-righteous Pharisee and the broken, repentant and humble tax collector. We sorted out what we believe Jesus' instruction to us, about true religion is. Apparently, Jesus understood the Pharisee's understanding of his own righteousness as a mockery of God's grace. The Pharisee – caught in an understanding of religion as a contract between himself and God – apparently thought that he had earned his own righteousness by his 'religious' behavior. That is, he "did good" therefore "God owed him his righteousness." The tax collector, on the other hand, couldn't bring himself to believe that he had a shred of anything good to recommend himself to even be able to stand before God much less, in any way, to merit forgiveness and righteousness. He knew he "did bad" and therefore "deserved punishment." But it is precisely the tax collector whom Jesus commends to us an an example for our own religious behavior. The tax collector understood his righteousness to have come from God as a free, unearned and undeserved gift from God and from God alone. Period. The tax collector knew he was a child who only a mother – or a God – could love sufficiently to make a difference.
So, you might ask, if God's grace is a free gift, isn't there the danger that that gift will be abused? Surely it has been and will be abused. So, now we know that God's patience is different from ours. The Pharisee's gift to himself of his own righteousness is also an abuse. The Pharisee thinks his 'righteous' is God's debt to him for his 'good' behavior. Humility, on the other hand, informed the tax collector about the true nature of God's gift of love to those truly in need of it as opposed to the self-styled 'deserving.'

The secret in understanding what Jesus is trying to say, I believe, lies in the HUMILITY of the tax collector who learned to live a life of gratitude rather than a life of arrogance, self-satisfaction and self-righteousness. The tax collector's religious behavior is based on thanking God rather than seeing God as a business partner who owes him something. His humility changes the tax collector's attitude toward himself, his condition, and towards others and their situations in life. He got what he did NOT DESERVE. So, his job become one of sharing GOD''S free gifts to him with others who may NOT and do NOT DESERVE THEM! Jesus point of view about God is quite simply and absolutely contrary to any sense of quid pro quo. Humility then, is the seed of hope for us and for our world. Humility will change us and our relationships with everyone and everything.
And so, we also thought about the grace of God feeding the world through the Sacrament of the Altar just as much as we celebrate God's complete and unmitigated love for each and every human being as children, who earn and deserve nothing other than love and support, shelter and food, safety and encouragement, come to be baptized.
REMEMBER: Next Sunday is our Stewardship Sunday Pot-Luck Luncheon after the 10am mass. Those luncheons are always great fun – and good eating as well. Your pledges help your congregational officers plan to keep our financial boat afloat and to do the important work we do together as the body of Christ. St. John's is in good 'ship shape." Let's keep it that way.
Bless you, one and all,
Fr. Ron
---
My dear people,
I share this article from the Lutheran World Federation with you – because you are so much a part of what it is about.
Read the article and see where it is your – and our – piece fits into the puzzle!
Blessings,
Fr. Ron
https://www.lutheranworld.org/content/resource-liturgy-20th-anniversary-joint-declaration-doctrine-justification
Prayer Service
for the 20th anniversary of the Joint Declaration on the Doctrine of Justification
The Lutheran World Federation and the Pontifical Council for Promoting Christian Unity have jointly prepared a liturgy to mark the 20th anniversary of the Joint Declaration on the Doctrine of Justification (JDDJ). The LWF and Catholic Church signed the JDDJ on 31 October 1999, (Reformation Day) in Augsburg, Germany.
Lutheran and Catholic churches are invited to use the liturgy in the context of Reformation Day. They are encouraged to include churches from the Methodist, Anglican and Reformed traditions, which have affirmed the ecumenical agreement. The liturgy includes prayers, suggested hymns and Bible readings, and excerpts from the JDDJ and other related documents. Publisher | The Lutheran World Federation Department | Department for Theology and Public Witness Publication date | 2019 Pages | 8 Language | English, German, Spanish, French Find More on Lutheran-Roman Catholic DialogueSee the original document confirmed in 1999
---
Thoughts from our Priest-in-Charge
20 October 2019
My dear people,
In the church throughout the world, yesterday was the 19th Sunday after Pentecost. At St. John's Church in Hamlin it was a the first Sunday of a new era: the Era of the Ecclesiastical Juke Box!. I must admit my great skepticism about "robotic music" for the mass. And, I must admit that it wasn't all that bad – and I'm sure, with a little bit of 'fine tuning' things will get better! What we all learned was that there really is a difference between people and machines and robots! I'll take the people, please! We will miss Kathleen while she is away in Arizona – but we thank her for her help in getting us into the 21st century, in the face of the dearth of available musical personnel. BTW we've already receive $500 toward the purchase of the 'Ecclesiastical Juke Box!'
Apart from all the musical excitement about new horizons, we were faced with some very bracing and relevant texts yesterday as well.
We read again the parable of the "Importunate Widow" [Luke 18:1-8]. I expressed my dismay that some might read the parable as depicting God as the "judge who neither feared God nor had respect for people." Since the widow – who is badgering the judge for justice – might easily be construed as a model for how we ought to pray.
Essentially, this parable is a model of the im-mutability of a hardened human heart: i.e. that of the judge. Rather, this parable very shrewdly understands that although the nasty judge's heart may not be changed, his behavior and his use of power and influence can be altered – because importuning, badgering, not letting him forget, plaguing him to do the right thing, causes him to seek his own comfort by providing – however grudgingly – justice for others! The only one who can change the judge's heart is the judge. But, this parable is how the judges use of power can be changed by the importunate! This parable is about effective techniques in the search for justice more than it is about the techniques for prayer.
Do you really think God needs to be badgered by you? C'mon! Don't you believe that God knows and cares about you ands your needs long before you ever get around to praying?
It is the Gospel writer who says: "Jesus told his disciples a parable about their need to pray always." That is, about their NEED TO IMPORTUNE – but not to importune God! The advice is rather to IMPORTUNE the POWERS and PRINCIPALITIES which generate and perpetrate the violence of injustice in society which burden the widow. Quite simply, Jesus is teaching about the search for social justice in this world. In this parable Jesus does not teach that the em-powered, civil authority, who neither fears God nor respects people, changes his heart! He teaches that the big, bad, judge with decision-making power will do the right thing only if BADGERED CEASELESSLY TO DO SO! So, even though the judge does not improve personally, he can affect the laws and statues to be just rather than un-just. During the Civil Rights struggles of the '60's the laws of this nation became more just because justice seekers (i.e. the widow of the parable) demonstrated, did not shut up, did not go away, did not abandon their ideals, and insisted upon laws that up-held the principals of all people being created as equal by God as recognized in the constituting documents of this nation. We also learned, more recently, that hatred, racism, prejudice and ugliness did not disappear as a result of the civil rights successes of the '60's. Charlottesville taught us that for sure! And we know for sure that sin – which is poverty – we will always have with us. This teaches us that our job is never done.
Yesterday, I proposed the idea that God is always praying to us! God surely wants us to believe that God is love for us and for all people. I propose to you today that you believe this. I ask you to consider today that your IMPORTUNING THE POWERS AND PRINCIPALITIES for JUSTICE become your answer to GOD'S PRAYER TO YOU to seek JUSTICE, love MERCY and to walk with God HUMBLY.
With God as your 'walking partner,' the ceaseless job of affecting change by ceaselessly speaking truth, in love, to power will be the answer to God's prayer and yours!
Bless you,
Fr. Ron
P.S. Yesterday I couldn't quite remember a quotation from Ruth Bader Ginsburg. Here 'tis:
"I ask no favor for my sex. All I ask of our brethren is that they take their feet off our necks."
---
St. John's Episcopal Church – Events for Oct. 2019
Sunday: Mass at 8 and 10am; Fr. Ronald R. Miller
Oct. 1 9:30am Daughters of the King meets in Parish Hall
Oct. 1 10:45am Prayer Group meets in Parish Hall
Oct. 4- 9am- 148th Convention Crowne Plaza, 1741 Papermill Rd., Reading, PA Oct. 5 1pm
Oct. 5 1pm-? Hall used for Lola's birthday party
Oct. 6 9am ish Blessing of the Animals service in the Ace Pavilion being held after the 8am Mass and before the 10 am Mass. 10am Mass will be held in the Pavilion.
Oct. 9 all day Salvation Army p/u for the Thrift Shoppe
Oct. 12 9am-1pm Thrift Shoppe Open
Oct. 14 Federal Holiday, Parish Office Closed
Oct. 15 10:45am Prayer Group meets in Parish Hall
Oct. 16 10a-12p & 5-7p Free Clothing Event – Now accepting all Fall/Winter items only
Oct. 20 11:30am Vestry Meets after 10am MassCANCELLED; NEXT VESTRY MEETING NOVEMBER 17 AFTER 10AM MASS.
Oct. 26 9am-1pm Thrift Shoppe Open
Oct. 26 4-6pm Pork `n Sauerkraut Dinner – Take Out Only
Oct. 27 10am Two baptisms at our 10am Mass: Kaius Alexander Charles and Kaeden David Charles
---
October 7, 2019
THOUGHTS FROM OUR PRIEST-IN-CHARGE:
14 October 2019
My dear people,
Sunday we spent time with a very familiar parable from Luke 17, which tells the story of ten lepers who asked to be and were healed by Jesus. The 'punch line' of the story is that only one of the ten returned to give thanks to Jesus for the gift of being cleansed. The real 'punch' in that line, however, is that the grateful man was a Samaritan, i.e. a despised foreigner, immigrant, refugee and alien!
The obvious question for us is which 'guy' is the one we emulate? Which leper is being offered to us as an example? And which role do we play, in the parable as it is given?
I observed that there is no record that the un-grateful nine were punished by Jesus for not thanking him. I suppose, honestly, that the nine were, in fact, grateful. Although, both you and I know that their behavior makes us doubt their sincerity. They were profoundly indebted to Jesus whom THEY ASKED for that singular blessing. They took what was asked for but failed to acknowledge the giver. They acted as if the gift were their birth right and not a gift at all! Consequently, not one of those nine is an example for us. Often, in our lives today, we appear to be most like the MAJORITY of those beggars, who accept the gift of life and healing and wholeness, etc. and forget – or refuse – to give thanks, and to acknowledge the GIVER, which is what gratitude is all about. This we must confess.
It cannot be a mistake that in this parable, a foreigner is offered to us as a model and a person from whom to learn. As Christians, this colors our attitudes toward foreigners, immigrants, refugees, asylum-seekers, and families looking for safety among us here. We know that these folks bring the gift of a grateful example to us which is often and appropriately embarrassing to the majority of us who frequently go our un-grateful ways without saying thanks!
We know that giving thanks is way more beneficial to the grateful person than it is to the person being thanked. We teach kids to "say thank-you" because it makes better children! From time to time, we too need to be admonished to "say thank-you." Surely, that's not because God needs our paltry gratitude. Certainly, it's because learning to be grateful and practicing thanksgiving is good for us and makes us into better members of the Body of Christ.
We believe, teach, confess and proclaim at every Eucharist (a word which itself means "thanksgiving"), that it is a good, right and a holy thing to give God thanks, at all times, in all places and under all circumstances. Such gratitude will improve who we are and make us into whom we want to be. Such gratitude can and will change the world by improving our relationship to God by making it more sincere. When we start to acknowledge the giver of all good gifts then we see the world – probably not as the MAJORITY of others see it – but as the MINORITY who acknowledge the GIVER and who learn to love those the giver loves.
Bless you,
Greetings!
It is in our nature to both "want our cake and eat it too." That usually isn't possible. However, we have a sort of opportunity to do that at St. John's. As you know our organist, Kathleen has bought a winter-house in Arizona to which she is soon to repair. We have looked and been frustrated in our attempts to find a replacement for her while she is out west. She has suggested – and we have already purchased – an "ecclesiastical juke-box" which will provide musical accompaniment for us on the hymns and during the liturgies at church. This idea sounds extraordinary; and as you know, I go kicking and screaming into the technological age. However, we are going to give this effort the "good old college try!" I ask for your patience – as we not only attempt to keep our Kathleen on staff (i.e. 'have our cake') and have music, while she is away, without having to hire someone in her place (i.e. and 'eat it too')!
The equipment to make this happen will cost us about $3,000. Our budget is written to be able to cover this expenditure. However, I know that you like to support special projects like this, to keep St. John's financially fit and able to serve. So, if you would like to make a special contribution to support our music program, and our choir, in particular, please place your gift – clearly marked "juke-box" – in the offering plate on any given Sunday.
Remember that St. Augustine of Hippo said: "He who sings prays twice!"
Bless you,
Fr. Ron
Contributions may be mailed to: St. John's Episcopal Church, PO Box 118, Hamlin, PA 18427
Thoughts from our Priest-in-Charge:
My dear people,
Ah, yes, there's a first time for everything.
Yesterday was the first time I ever presided at a St. Francis celebration with the blessing of pets and animals. As some of you know, that was sort of out of my personal "comfort zone." I was, however, delighted by the event which went off "swimmingly" despite the drizzly day.
Our attendance was great yesterday – and it is worth noting that that was not in response to what might be seen as the 'gimmick' of bringing pets to church. Quite the contrary. There were 21 people at the 8am mass, and only one canine, "Charlie." What you might not know is that "Charlie" attends the 8 o'clock mass regularly. So, he wasn't a 'gimmick' attendance figure. And, the doggers who came between the 8am and 10am masses were all brought to church by regulars attenders. So, I was delighted that St. John's was strong, yet again, and not because of what might be seen by some as a 'gimmick.' Our total attendance was 45!
There are important issues to which our pets and our care of them point us. Staring us right in the face are the issues of global warming, the depletion of the rain forests, melting ice fields, pollution, etc. The question is, can our beloved pets encourage us to love the creation of which they are a part and the Creator, from whom they came, as much as we love them? Can your pet help you to believe and understand our role as stewards of creation [which goes a bit further than owners of pets] and responsible for the care of the earth? It is not without reason to understand the earth as our aging mother. According to Genesis, she is God's creation and gift to us. How will we treat her and those and all that she provides for us? In what condition will we leave her to the next generation?
At the conclusion of the 10am mass, yesterday, I asked you to consider how much money, care, food, medicine, insurance protection, affection, etc. is expended on animals and pets in our country in one year. I'm certain the figure is staggering. Can we, therefore, really look at our human neighbors on our southern border and turn our backs on those who come to us looking for shelter, food, medical care, succor, and the simple "milk of human kindness" and turn our backs on them, and disingenuously argue that 'we can't afford it?" That simply cannot be. And, it is not true! To care for our pets better than we care for those who seek asylum, succor, and aid is problematic for me – and for us as a church. And the issue need not be framed into an either/or kind of argument. We can indeed and ought to have our pets just as assuredly as WE CAN AND NEED TO ADVOCATE for the POOR, the HOMELESS, the DISENFRANCHISED, the ASYLUM-SEEKER, the MIGRANT, the REFUGEE, and all the other HUMAN brothers and sisters who look to us just as plaintively as our pets do, when begging for treats! As Christians, we are "both and" rather than "either or" kinds of people, I am sure. We can do both: love and care for our pets as well as love and care for our human neighbors in need! We not only CAN DO these things, as Christians, WE MUST do these things!
There is way more comfort and affection and love waiting for us at our borders than our pets provide. We simply need to be as moved by them as we are by Fido! That really can't be too hard, now, can it? And it certainly won't be any more expensive, I am sure. Remember, we are taught that those for whom we care might be God's messengers: Angels unawares.
By the way, I read a hagiology [a study of the Saints] about St. Francis which didn't once say a word about animals!
Bless you. Those with pets and those without. We all have neighbors – and some of them are languishing at our borders. Let us not forget to care for them even better than we care for our pets.
In Christ,
Fr. Ron
30 September 2019
My dear people,
Yesterday was exciting at St. John's. Our attendance reached 40 faithful! And, the subject matter in the appointed lessons was plain, unequivocal, and way easier to understand that the texts from the last several weeks.
The Gospel, from Luke 16, told the story of Lazarus, a "poor man…covered with sores" which the dogs licked, and who lay at the door of an unidentified rich man who was "dressed in purple and fine linen and who feasted sumptuously every day." The long and short of the story is that the rich man did nothing to help the poor man: "who longed to satisfy his hunger with what fell from the rich man's table." Then, when they both died, the rich man, who was burning in hell, asked Lazarus and Abraham (in whose bosom he was now eternally and comfortably ensconced) for help. There is no record that either Abraham or Lazarus did not want to help the rich man. However, the fact of the matter was that a barrier, "a great chasm," a great wall, if you will, had "been fixed" between them, about which they could do nothing. The barrier was constructed and maintained by the rich man's refusal to help the poor man, or even share crumbs with him, during life. Consequently, nothing could be changed in the future or in the after-life. The rich man reaped the benefit of his efforts to ignore and exacerbate Lazarus' condition.
We spoke about the 'problem' of poverty in our world – and acknowledged the fact that we will never be able to solve that problem. We also acknowledged, the problem which we CAN SOLVE, is the problem of the hardness of our hearts and our attitudes toward the poor, which are often very like those of the rich man in purple and linen finery. Our attitudes shape the way we live and act not only as individuals but as a church and a society. Yes, our attitudes are political! Our faith is political. And we know that the "bottom line" and "profit margins" should not be what we worship, nor the focus of our lives. They were for the rich man in the parable. He stands as a warning for us and our attitudes – personal, ecclesiastical and political – today.
We also talked about the text from First Timothy 6 which speaks of the dilemma of the wealthy, and those who grasp for greater wealth without concern for others. Timothy says: "… those who want to be rich fall into temptation and are trapped by many senseless and harmful desires that plunge people into ruin and destruction. For the love of money is a root of all kinds of evil, and in their eagerness to be rich some have wandered away from the faith and pierced themselves with many pains."
We must confess that money is NOT the problem! In fact, money can fix some problems. But the Timothy text warns that the LOVE of MONEY is the problem. In reality, money is a great vehicle for doing good. In fact, we ourselves are about to embark on our annual Stewardship Campaign which is aimed precisely at HOW we plan to use 'OUR' MONEY in ways that prove that we believe that ALL that we have and are is God's gift to us – including, and maybe especially 'our' money! We know that we are more effective and able to serve better with increased financial resources and financial stability than without. As the church, our use of money is – or should be – always in relation to the worship of God and God alone. Our God is NOT a golden calf.
So then, if we are incapable of solving the problem of poverty in the world, the question arises, why bother or worry about the poor at all? Well, frankly, the real concern is for the wealthy who ignore, are insensitive to and who worsen the plight of the poor. St. Luke reminds us that their time will come when they learn that money is not equatable with salvation. They will also learn that salvation cannot be purchased later on. Their money is – like manna – useful NOW and NOW alone: either to assist Lazarus or not.
Jesus teaches us that the poor will ALWAYS be with us. That is, our work will NEVER be done. Nor will our opportunities to live as belonging to Christ be exhausted. Money will NEVER suffice to SOLVE problems. But money can work at problems and be used to make things better rather than worse! How we use money can prove that we worship either God or a golden calf.
We also remember that we get N T Biblical advice, from the book of Hebrews 13:2 "Do not neglect to show hospitality to strangers, for thereby some have entertained angels unawares." Could it be that those who wish to draw closer to the Lord or 'hear from God' ought to draw closer to the poor? The suggestion is that the "poor" are carriers of messages from God. The Greek word 'anggelos' from which we get the word 'angel,' means 'messenger.' Jesus did that! And if we did, we just might learn that those who might be without money, or possessions, or even a home-land, bear a message from God. It is also clear that if we turn our backs, ignore our brothers and sisters and if we build walls and dig chasms we will certainly and permanently prevent ourselves from receiving God's messages from God's own messengers – his angels: the poor, the disenfranchised, the homeless, the migrant, immigrant and refugee.
Yesterday was the 105th anniversary of the World Day of Migrants and Refugees. In celebration of that day the Pope in Rome unveiled a large, new bronze monument in St. Peter's Square, called 'Angels Unawares' which depicts a boatload (140) of immigrants and refugees seeking refuge and asylum. From the midst of the crowd a pair of angel wings rises suggesting God's presence with them – despite their poverty and homelessness – and their function as messengers of God, to us as surprising as that might be and as unaware as we often are.
Here's the message folks. The part of the overwhelming problems we face today that IS FIXABLE is in our hearts and attitudes toward the poor, the dis-enfranchised, the homeless, the asylum-seeker, whom we know to be "angels" about whom we are often, and in large part, un-aware! Are we willing to have our hearts and attitudes fixed, and made willing to listen to God's message, rather than listening to the often rather glitzier and louder message which comes from and shines off the backs of golden calves?
Here's and article about the new sculpture in St. Peter's Square, in Rome.
My deep gratitude to you all for being God's messengers to me.
In Christ,
Fr. Ron



John L. Allen Jr.Inés San Martin

Artist says new sculpture in St. Peter's Square blends history and current events Inés San Martín
Sep 29, 2019
ROME BUREAU CHIEF


Pope Francis unveils the sculpture on the theme of refugees and migration ' Angels Unawares ' by Canadian sculptor Timothy P. Schmalz, on the occasion of the Migrant and Refugee World Day, in St. Peter's Square, at the Vatican, Sunday, Sept. 29, 2019. (Credit: Vincenzo Pinto/Pool Photo via AP.)
ROME – After moving Pope Francis – and the world – with his sculpture "Homeless Jesus," a Canadian artist is at it again, this time as the mastermind behind the first new sculpture installed in St. Peter's Square in over 400 years: It depicts 140 migrants and refugees and is called "Angels Unaware." Artist Timothy Schmalz created the original concept for the sculpture at the request of the Vatican's Migrants and Refugees office, headed by Cardinal-designate Michael Czerny, but overseen directly by the pope himself. The new 20-foot tall bronze sculpture will be unveiled by Francis on Sunday, Feast of Archangels, during a special Mass in St. Peter's Square for migrants and refugees. He will be accompanied by the artist and four migrants.
The sculpture shows 140 people from different cultures and from different times in history: From indigenous peoples to Jews escaping Nazi Germany to Syrians and Africans fleeing war and famine today. Speaking with Crux, Schmalz said that the inspiration came from a passage in the Book of Hebrews: "Be not forgetful to entertain strangers: For thereby some have entertained angels unawares." It's unclear how long the sculpture will remain in St. Peter's Square, but Crux can confirm that it will be longer than "one week," as some Italian news outlets have reported. In order to install the 3 1/2 ton sculpture at the crack of dawn on Monday, a section of cobblestones were removed from the square.
What follows are excerpts of Schmalz's conversation with Crux.
Crux: How did the idea come to be? Schmalz: Two ways: From scripture, it's based on the Bible. All the time, when I work, I listen to the Bible. I have been doing this for years, it's part of my inspiration. The idea came from Hebrews 13:2 – Be welcoming to strangers and many have entertained angels unaware. I was requested by Migrants and Refugees to come up with a concept specifically for migrants. I went back to my studio and the two came together instantly: The Bible passage and the idea of migrants. It was an amazing blend of very topical concerns today and this historical or biblical scripture. Why are there 140 people depicted in the sculpture?
I found out the number of sculptures in the colonnades of St. Peter's were 140. And knowing that the first bronze cast of the piece would be placed in the square, I wanted to create that symmetry between the new and the old, and the idea of the saints and the precious sacredness of all human life. It was a great addition. The figures in the sculpture – what I created was a sculpture that shows a tapestry of people from all historical periods of time. From ancient migrant people to indigenous migrant people to contemporary Syrians and Africans. Being from North America, we have a saying that goes, "We've all come from someplace." And I think that the sculpture shows that, a belief that Father Michael Czerny holds deep: The refugee crisis is not a crisis, it's just what people do. It shows his idea, because whatever position you look at it from, you see every single culture and religion experiencing the same: Migration. It's a visual lesson but also a visual interpretation of scripture. Is it the same one you presented to the pope?
When I create a sculpture, I first make a small version, and then a larger one. When the migrants and refugees section asked for it, I dropped all my other sculptures because it was an incredible experience, the idea came down from the sky. From that first small version, I did a five-foot version of it, that's going to be unveiled on Monday, in St. Paul's Outside the Walls. And from that, I went to the 20-foot version, which is really an experience when you look at it, it's like 100 sculptures in one. I wanted to create a sculpture that wasn't just a soundbite. I was fortunate to get a lot of actual, real people within the piece. I used a lot of photographs of immigrants that people gave to me, and even had some refugees from Africa who came and posed for the piece. This is the final version of it. It took me a year of non-stop sculpting to make it. It's very impressionist, but I didn't want to be concerned with too many details, but with the emotion of the piece, having a reflection of all the different cultures but also all the different emotions that migrant people might be experiencing. I have a Jew escaping from Nazi Germany right beside a Syrian refugee who's right next to a Pole escaping Communism. I also have different emotions: The joys, the hopes, but also the tragic sorrow of leaving one's home and one's loved ones. It's really a sculpture that I believe will hold people's attention, and also tell a historical and cultural story. Have you spoken with the pope at all? One of the most delightful emails I ever received was after I created the model, saying that Pope Francis would be delighted if I could bring a little model to Rome so that he could bless it. I wasn't even done with the small version. That's really the beginning of the experience, but I'm very excited for tomorrow because it'll be the first time Pope Francis sees the full size of the sculpture. It's interesting because I think of the significance of the piece and what it suggests. It's the first time St. Peter's Square has had a new sculpture in place in over 400 years. Or at least, that's what a Vatican official said to me while we were installing it. She came over and said, "Do you realize that this is the first time a sculpture has been installed since Bernini?" And that's pretty awesome. Because what is being installed is not just bronze nor is it just art. It's an idea. An idea of welcoming. If you think about the whole design of St. Peter's Square, with two extended arms reaching out, historically, the whole concept was considered that they were welcoming arms to welcome not only the pilgrims, but also for the tourists. Because even in the 1600s Rome was a center for tourism. And now, for the first time, you have people who've never before been represented in artwork in Rome: I strategically placed the figures that are very rarely, if ever, seen in artwork here, like the African, the Muslim, the Jew. I have several Sikhs. And you see how people from all over the world, Christian and non-Christian come into that square and what better thing to do with art than to express that invitation and that warmth. And to me, that's what being Christian really is about. I think it suggests the Christian spirit throughout the centuries of welcoming. And right at the center of the piece, you have the angels coming out. In the center of the idea of welcoming migrants, is that spirituality. But the message is very subtle. The person who approaches the piece can identify with these really human images, with these spiritual wings in the center. It's to suggest that at the center of our lives, we must have this spiritual side. Will you be there tomorrow? I am. It's going to be four refugees joining Pope Francis, who will unveil it. It's going to be really exciting. Before the unveiling, the only thing that will be visible are the wings. The date on which it's to be presented is actually providential: Literally, I could not have gotten it done any quicker than this. It got here two weeks ago, the installation went perfect. And Sunday is also the feast of St. Michael the Archangel. So you have in the center of the piece the angel.
Follow Inés San Martín on Twitter: @inesanma Crux is dedicated to smart, wired and independent reporting on the Vatican and worldwide Catholic Church.
Please come to the 1742 Moravian Museum any Friday, Saturday, or Sunday from 12 – 4 p.m. It is located on Church St. in Bethlehem next to Central Moravian Church, across from the Hotel Bethlehem. The admission is $12. Or consider exploring all five museums in Bethlehem's downtown including the Nain House (Native American house), Apothecary (oldest continuously running drugstore in America until 1952), Sisters' House (1744) and Kemerer Museum (currently displaying dollhouses and Bohemian glass). A multi pass for all 5 museums is only $20 and valid for one year. Come and enjoy your Bethlehem Moravian heritage. Any questions may be directed to the Historic Bethlehem Visitor Center at 1.800.360.TOUR.
---
THOUGHTS FROM OUR PRIEST-IN-CHARGE:
23 September 2019
My dear people,
The Gospel Sunday was from Luke 16:
Jesus said to the disciples, "There was a rich man who had a manager, and charges were brought to him that this man was squandering his property. So he summoned him and said to him, `What is this that I hear about you? Give me an accounting of your management, because you cannot be my manager any longer.' Then the manager said to himself, `What will I do, now that my master is taking the position away from me? I am not strong enough to dig, and I am ashamed to beg. I have decided what to do so that, when I am dismissed as manager, people may welcome me into their homes.' So, summoning his master's debtors one by one, he asked the first, `How much do you owe my master?' He answered, `A hundred jugs of olive oil.' He said to him, `Take your bill, sit down quickly, and make it fifty.' Then he asked another, `And how much do you owe?' He replied, `A hundred containers of wheat.' He said to him, `Take your bill and make it eighty.' And his master commended the dishonest manager because he had acted shrewdly; for the children of this age are more shrewd in dealing with their own generation than are the children of light. And I tell you, make friends for yourselves by means of dishonest wealth so that when it is gone, they may welcome you into the eternal homes. I had to admit that this passage really stumps me. But, I also had to confess that because we are a liturgical church, and follow an annual liturgical calendar, etc., that I did not – and do not – feel excused from having to struggle with this complex text and to use it in proclaiming the Gospel. Sometimes my job as a preacher is more challenging that others. Nevertheless….. So what's in this text? Are we being instructed to be dishonest? Are we being offered the example of a scoundrel as one to follow? Are we being taught to cheat? I think that the answer to all of these questions must be an unequivocal NO. So, what then? Well, this is where the shoe begins to pinch. We are being invited to understand ourselves as the squandering manager in the parable. Yikes! I suppose that means we need to start understanding ourselves – from the 'get-go' – as dishonest, scoundrels who cheat. The psychologists will have a field-day with that one, I am sure. But as Christians, we make our confession that we are by nature (from 'get-go') sinful and unclean and cannot save ourselves. Yep. We start by taking responsibility. Not for being the worst sinners in the world but for being sinners – all of us – in a sinful world. That obviates and makes it impossible for us to see ourselves as better, superior, cleaner, more religious, or less in need of God's grace and mercy, than anyone else in the world. And that does include the worst sinners in the world, and even us, if that is whom we happen to be! So then, my best guess about this text is that it may be an instruction to us who are imperfect our selves, and who are living in an imperfect world, that the best use of 'our' resources [which in faith we must and do confess come to us from God and God alone] is to build positive and reciprocal relationships with the rest of the world's scoundrels [also God's children] rather than to treat what it is we have received, or taken inappropriately, from the 'rich' master and use them for the common good rather than for ourselves alone. The 'rich master' admired – and even encouraged – that behavior on the part of his unfaithful manager. I suppose that was pleasing to the 'rich master' because it allowed his resources to reach more of his beloved children: all of whom are scoundrels! I did report yesterday that even the Pope understood this text as being opposed to building walls rather than building relationships. And I did remind the congregation that the etymology of the Latin papal title "Pontifex maximus" means the great road and bridge builder. So, as God's forgiven scoundrels, let us use – as we have been instructed – the 'filthy lucre' under our control, not to build walls but roads and bridges to please our God – who is our own 'rich master.' God bless you richly, Fr. Ron
17 September 2019
My dear people,
Yesterday I was an honored guest and a privileged invitee at the Moravian Cup of Covenant gathering at Central Church in Bethlehem. Pastor Mark Newman invited Past Alan Shumway and me to join him in a gracious morning, during which we attended a stirring hymn study and sing. Later we shared a lovely liturgy focused on renewing ordination vows which included a ceremonial sharing of a cup of grape juice and a rather extravagant luncheon. This exercise was intentionally ecumenical and was particularly significant to me in affirming our ecumenical ties which reach far beyond the 'official' ones. Thanks be to God!
On Sunday we were challenged with a text from Exodus which suggests that if God is not fickle, God is at least mutable and capable of having 'His' mind changed!
Exodus 32:14 "And the Lord changed his mind about the disaster that he planned to bring on his people."
Now, when we think about the 'attributes' of God, neither fickle nor mutable makes it into any list I know of! And, frankly, I don't want that kind of God. Do you?
In those days, Folks knew that God was just. And they knew what justice looked like and how it should work: law and order. So, since they knew that they had sinned and returned to idolatry and to worship of the golden calf, they knew that they deserved punishment from God.
But that's NOT how things worked out. They came to an astounding realization: that God who knows everybody, and everything that everybody does, is NOT ANGRY all the time but rather patient, forbearing, long-suffering, merciful and yes, even humble! The people changed their minds about GOD! God never changes God's mind about loving 'His' children – any or all of them. To confirm that, re-read the Parable of the Prodigal Son!
The people of Israel gained an insight into the inscrutable justice and mercy of a loving God who makes 'law and order' look like something other than anything related to true religion. And, despite their "a-ha!" moment, I suppose as humans, the Israelites found it difficult to admit they were wrong about God. So, quite naturally, they blamed God for changing "His" mind. How typical of us humans.
We are indeed pridefully sinful and cannot save ourselves!
The challenge for us is the very same today! We need constantly to be called back to Jesus' understanding of God as not just just but mercifully so – and that, beyond our understanding. We know that God's justice is nothing like ours – and makes our sense of justice a pale and paltry thing by comparison. The exciting thing about the story from Exodus is that God did NOT CHANGE God's mind, no matter what the text says.But when the people of God changed their minds and turned away from the golden calf, then God was able to continue to use them to fulfill God's own purpose and to do God's own will.
So it is, I believe, that we need to be constantly engaged in the business of thinking about God. Who is it we believe God to be? How is it that God might use us – blasphemous idolators that we sometimes are? Whose mind needs to change? Whose heart needs to change? We know that God's justice does not look like ours. Should our justice look more like God's?
I'm sure we're all in for a surprise when we finally learn that our ideas are way too small to contain the God of Abraham, Isaac, Jacob, Jesus, Mary and Joseph.
So, let's be brave. Let's be faithful. Let's ask for God's help to change our minds about God and our neighbors, so that God's will might be done and done well, by us. Not because we are worthy – or because God has changed God's mind about us – but, because we have changed our minds about a God whom we have usually seen as too small, too angry and too inadequate to be called 'Love.'
Bless you in re-imagining God as the unimaginable God of true Justice, limitless Mercy and astonishing Humility.
Bless you,
Fr. Ron
P.S. When I visited Rev'd. Beth Haynes on Monday – she told me she was sure she would return home this week. R.

---
Sometime in the very near future, training will be held here at St. John's for our Eucharistic Visitors and Worship Leaders, conducted by a representative of the Diocese. The class will be streamlined to 3 or, at most, 4 hours. If you are interested or want to know a bit more of what is entailed, please let Fr. Ron know and watch for the date of the training to be announced – anyone interested should certainly attend. What a wonderful way to serve!
---
Please note the change in time for Blessing of the Animals Service on October 6th:
We will be celebrating a Blessing of the Animals service in our Ace Pavilion between our two services of 8am and 10am on Sunday, October 6th. During this celebration you may bring your beloved pet with proper restraints and supervision or a picture of past or present pet(s) to be blessed during this beautiful service.
THOUGHTS FROM OUR PRIEST-IN-CHARGE:
September 13, 2019
My dear people,
Recently, I was asked why I was so concerned about "Mexicans." Then, I was accused of not caring as much about our "own poor people," who are right here in the United States.
Frankly, I am guilty of the first charge – and I would include any immigrant who comes to this country seeking succor and asylum among the "Mexicans" I was asked about. I am not willing to be guilty of the second charge. As Jesus reminds us: "The poor you always have with you." [Matthew 26:11] They all deserve our attention.
I am, however, profoundly troubled about racist trends, which follow the lead of certain elected leaders in this country today, who encourage white supremacist attitudes which are shamelessly and publicly touted. Those attitudes blame the people most in need of assistance, for all the ills of our own society. Those attitudes allow people to refer to immigrants and asylum seekers as "Mexicans" without making any distinction about where any of those people come from – and they are NOT ALL from Mexico! And, so if they were? We all know that children are NOT BORN with prejudices. Prejudices are TAUGHT. And if national leaders are anything, they are TEACHERS. And teachers must be accountable for what they TEACH!
Here is a story which occurs in the three 'synoptic Gospels' about a woman, in a crowd, looking for particular help from Jesus.
Jesus healing the bleeding woman (or "woman with an issue of blood" and other variants) is one of the miracles of Jesus in the Gospels (Matthew 9:20–22, Mark 5:25–34, Luke 8:43–48).[1][2][3][4]
And a woman was there who had been subject to bleeding for twelve years. She had suffered a great deal under the care of many doctors and had spent all she had, yet instead of getting better she grew worse. When she heard about Jesus, she came up behind him in the crowd and touched his cloak, because she thought, "If I just touch his clothes, I will be healed." Immediately her bleeding stopped and she felt in her body that she was freed from her suffering.
At once Jesus realized that power had gone out from him. He turned around in the crowd and asked, "Who touched my clothes?" "You see the people crowding against you," his disciples answered, "and yet you can ask, 'Who touched me?' "But Jesus kept looking around to see who had done it.Then the woman, knowing what had happened to her, came and fell at his feet and, trembling with fear, told him the whole truth. He said to her, "Daughter, your faith has healed you. Go in peace and be freed from your suffering." [Wikipedia]

I had an idea, when I thought about this story. You know that being 'bloody' made that woman unclean – and unless she were blood-less for seven days. she could never be considered ritually pure. She was a victim of circumstances and problematic. As impure, she was excluded from both church and society. And, she was getting worse!
Now, as you know, Jesus was in a crowd. Crowds jostle and people bump into each other all the time in large groups. Surely Jesus was being jostled and bumped by a lot of people. They were people in NEED of what he had to offer. They came to see and be with him for a reason.
But this story is about one "Mexican" woman – whose need was different, more enduring, more urgent than that of the others. Jesus, you see, was TOUCHED by her in a special way. Notice that Jesus being TOUCHED has something to do with Jesus being MOVED [not jostled] by a furtive hand which reached for the hem of his garment. This is about how JESUS was TOUCHED: meaning personally MOVED. This is about more than a woman grabbing his clothing. This is about a woman who MOVES the heart of CHRIST!
We are told that when she touched him, "power had gone out from" Jesus. That is, his mercy went out to her in a particular and special way because her needs were peculiar and urgent and of a long duration. His response to her was instant, if even un-knowing, but indicative of the Divine instruction to do justice mercifully with humility immediately!
The result was that the woman was freed from her suffering and went her way. She was no longer a problem either to church or society.
What does this story tell us? It makes no suggestion that Jesus did not love all the others in the crowd. It does, however, show us that Jesus taught those who came looking for something that maybe the person they excluded from their churches and societies held the key for their own healing. In the end, Jesus said to her: "Daughter, your faith has healed you." What do you imagine he said to the rest of the crowd?

I believe, that just as Jesus did, so must we, the church, respond specifically and particularly to the "Mexican" – whoever that may be! – who reaches out her hand to touch the garment of the Lord which we wear, as the church, the body of Christ.
God love you in your loving the woman with the issue of blood.
In Christ,
Fr. Ron
---
September 11, 2019
My dear people,
What challenging texts we had on Sunday! What in the world could Jesus possibly meant when he said: "Whoever comes to me and does not hate father and mother, wife and children, brothers and sisters, yes, and even life itself, cannot be my disciple. Whoever does not carry the cross and follow me cannot be my disciple…."?

The church usually argues "the family as the building block of society." And here's Jesus saying that even that essential and basic element of society will be threatened by anyone who REALLY listens to and REALLY wants to be Jesus' disciple. Wow! Then, he goes on to say: "…none of you can become my disciple if you do not give up all your possessions." Well, I guess that leaves all of us OUT! And that's certainly NOT where I want to be. I want to be IN! Don't you?

The stark reality stares us straight in the face. Jesus' understanding of religion is RADICAL. Jesus' understanding of religion is absolutely INTOLERANT of hypocrisy and accommodation of any attitudes or behaviors which are unjust, unmerciful and which lack humility. Jesus' sense of religion is really quite simple. But that simplicity has been pretty well messed up by both church and society! Jesus smashes any sense of religion which is based on an understanding of God's relationship with humanity as a contractual rather than a loving relationship between the Almighty Creator and us not-so-almighty creatures: God's own children. That is, ALL of us.
We got a glimpse of this in the sort of slave-trade deal going on in the text from Philemon we read on Sunday. Paul says: "…though I am bold enough in Christ to command you to do your duty, yet I would rather appeal to you on the basis of love– and I, Paul, do this as an old man, and now also as a prisoner of Christ Jesus. I am appealing to you for my child, Onesimus, whose father I have become during my imprisonment."
Here we see Paul beginning to grasp this reality. In this passage, Paul admits that falling in love with Onesimus opened his eyes to the way things should have been both in society and the church. Here, Paul's religion grows and he begins to see that the church needed to change things and not allow them to be as they were. It's pretty obvious that as Paul originally believed Onesimus to be his 'property.' However, by coming to know and love him personally, he also came to see him as a brother and a member of the Body of Christ! That changed his understanding of Onesimus and allowed him to understand a former slave as a fully-fledged human being, a creature of the Almighty God and as one who was as much the object of God's affection as Paul believed himself to be!
What does this say to us as when we as a nation are asked to see and relate to our neighbors from the south who are IN NEED and who seek help, succor and asylum, ONLY on the basis of the CONTRACT of LEGALITY? What about the CHRISTIAN reality of LOVE? What about God's love for all people? What about God's love for both Paul and his slave, Onesimus?
In this, we can begin to understand how following Jesus might lead to divisions – even in our own families – and the radical call to seek justice, love mercy and walk humbly with God, which Jesus certainly understood to be the real stuff of Real Religion.
The issues raised in Sunday's lessons stand and confront us. The question is: are we really interested in being Jesus' disciples or not?
There is a basic adjustment about religion which Jesus invites us to understand. Either we see our relationship with God as a contract in which we pay up and God owes us something or it is not. The alternative is to understand that everything that we have and are is God's gift to us – and God could NOT POSSIBLY OWE us a thing. So, instead of seeing God as the answer to our prayers, we begin to see ourselves as the answer to Jesus's prayer, uttered in the Garden, on the night in which he was betrayed, that 'the church might be one' in seeking justice, loving mercy and humbly walking through life with God.
Bless you, one and all,
Fr. Ron
---
We will be celebrating a Blessing of the Animals service in our Ace Pavilion in-between our two services of 8am and 10am Masses on Sunday, October 6th. During this celebration you may bring your beloved pet with proper restraints and supervision or a picture of past or present pet(s) to be blessed during this beautiful service. During this celebration you may bring your beloved pet with proper restraints and supervision or a picture of past or present pet(s) to be blessed during this beautiful service.
---
VESTRY MEETING CHANGED TO SEPTMEBER 22ND:
St. John's Episcopal Church Events for Sept. 2019
Sunday: Mass at 8 and 10am – Fr. Ronald Miller, Priest-in-Charge
Sept. 2 Labor Day Parish Office closed
Sept. 3 9:30am Daughters of the King meets in Parish Hall
Sept. 3 10:45am Prayer Group meets in Parish Hall
Sept. 14 9am-1pm Thrift Shoppe Open-Summer Donations No Longer Accepted
Sept 14 9:00am Hamlin Clergy Meeting at Salem Community Church
Sept. 18 10am-noon&5-7pm Free Clothing Event at Thrift Shoppe
Sept. 17 10:45am Prayer Group meets in Parish Hall
Sept. 22 11:15am Vestry monthly meeting
Sept. 28 9am-1pm Thrift Shoppe Open
Thrift Shoppe Note: We will begin to accept fall and winter donations on October 16th – We are no longer permitted by PA to sell comforters, pillows, quilts, anything upholstered, crib bumpers…thank you!
Phone: 570-689-9260
Parish Office hours: Monday, Wednesday and Friday – 10am-3pm
Email: stjohnshamlin@verizon.net
Follow us on Facebook, LinkedIn and Twitter
Check out our Website: saintjohnhamlin.org
Check us out on faithstreet.com
---
August marks 400th Anniversary of the first Black people brought to this country as slaves in 1619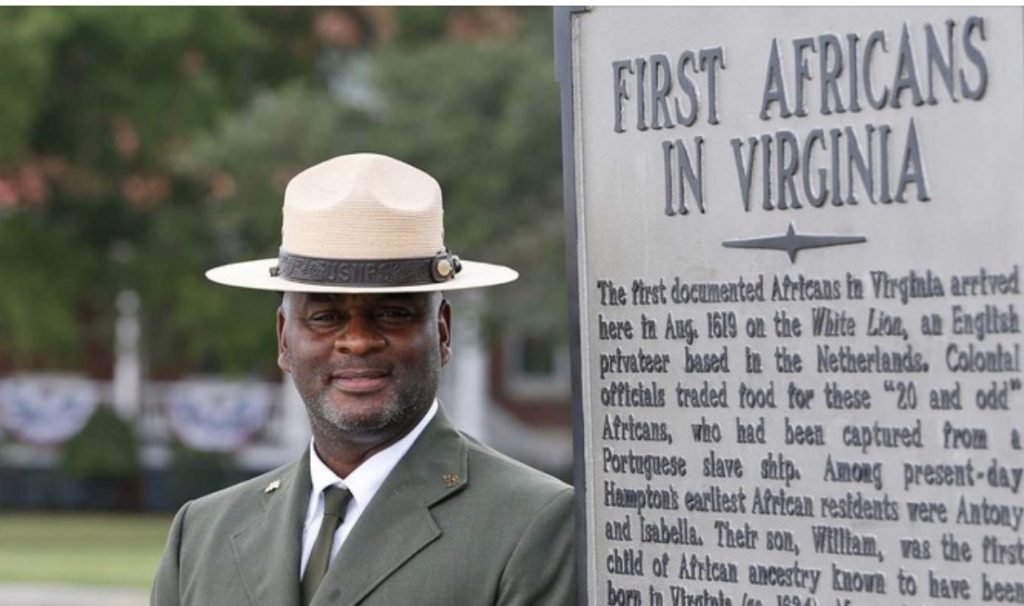 Melvina Black, Pat Ware, and Michael Nigro were on hand at 3:00 PM to ring our church bell. The bell was rung nine times in recognition of the number of ships carrying these chained and bound people.
By Ed Simon Ed Simon is an editor at Berfrois, a staff writer for The Millions and author of"America and Other Fictions: On Radical Faith and Post-Religion." August 20
A year before the Pilgrims made their famed journey to New England, signing the "Mayflower Compact" and thus inaugurating so many of the myths that we believe about our democratic origins, a very different ship disembarked in that older English colony to the south, Jamestown. Aug. 20, 1619, marked the arrival of 20 enslaved Africans in English North America, "bought for victuale … at the best and easyest rate they could" as recorded by the tobacco planter John Rolfe (Pocahontas's husband), some 15 months before the Mayflower supposedly landed near Plymouth Rock. This anniversary affords us an opportunity to think about American origins; both what we choose to remember and what we choose to forget. Every schoolchild has heard of the Mayflower, but not of the White Lion and the Treasurer, ships that kidnapped Africans. We glorify the Pilgrims as models of liberty, and the Virginians as captains of industriousness, but as always, the reality was more complicated. The histories of these two regions were intertwined with the dark underbelly of human exploitation and bondage, which Jamestown established a year before the Pilgrims arrived. Too often, America's history of slavery, which is deeply entangled with the economics of the nation, is taught and remembered as something antique, forgotten and regional. But so enduring has the legacy of slavery been and so scant has been our actual reckoning concerning this evil that we are obligated to look more closely at what Jamestown and Plymouth mean, and why we should remember them together. The story of the enslaved Africans and their arrival in Jamestown has long been recounted as a counterpoint to the story of the landing of Pilgrims in Plymouth. Historian Jill Lepore compares the relationship between the two colonies in subsequent American imaginings as being a sort of "Cain-and-Abel, founding moment." An American abolitionist writing in 1857 quoted by Lepore exclaimed that as regards the colonies, "Here are two ideas, Liberty and Slavery — planted at about the same time, in the virgin soil of the new continent; the one in the North, the other in the South. They are deadly foes." Southern apologists interpreted those two landing dates in a different way. George Fitzhugh would compare Massachusetts and Virginia in 1860, declaring that the coming war was "between those who believe in the past, in history, in human experience, in the Bible, in human nature, and those who … foolishly, rashly, and profanely attempt to 'expel human nature,' to bring about a millennium." For southerners such as Fitzhugh, New England Puritanism had strayed far from its Protestant roots, embracing what critics saw as the moralizing liberalism of denominations such as Unitarianism and cultural movements such as Transcendentalism. For Fitzhugh and those like him, these "heretical" children of Puritanism now threatened what he saw as both his economic livelihood and his "right" to hold other humans in bondage. But the kidnapped people who were sold in Virginia 400 years ago weren't symbols, they were women and men. They were real people who'd previously lived their lives as inhabitants of the African kingdom of Ndongo and were forcibly brought to labor in Jamestown. A 1624 census in Jamestown shows the otherwise anonymous Antoney and Isabella as the parents of William Tucker, the first African American to be born on these shores. Any memory of the early origins of America must center the experiences of people such as Tucker. And remembering the bondage of actual individuals reveals the shared similarities between Virginia and New England that bound the two parts of Colonial America together. The slave trade was a driving force in the colonization of what became the United States, and indeed the rest of the Americas as well; it preceded English settlement and transcended regional difference. This didn't just start when "20 and odd Negroes" were forcibly brought to Virginia from Angola in 1619. The transatlantic slave trade had already been operating in Spanish and Portuguese colonies of the Americas for more than a century, and indeed it would exist for more than a century in the New England colonies as well, if not to the same extent as it did in the south. To remember Jamestown as the origin of American slavery is to forget its earlier instances, and to ignore the presence of slavery outside of the south. True that Massachusetts, in part because of its Puritan origins, would ultimately become the cradle of American abolitionism. But in its first century-and-a-half, slavery initially found home in Plymouth, Boston and Salem as surely as in Jamestown, Charleston and Wilmington. In the early American colonies, both Massachusetts and Virginia relied on the exploitation of enslaved people, as well as the brutal suppression and ethnic cleansing of the indigenous population. Both colonies would countenance slavery, even as it was eventually abolished in Massachusetts for economic reasons as much as moral ones. But, bringing Jamestown and Plymouth's legacy of slavery into our shared memory of the nation's origin is essential. After all, 246 years of slavery dominate the American story, in contrast to only 154 years of emancipation. To simply see those two colonies as a Cain and Abel is to forget the legacies of slavery that taint both, and which indeed still taint us today. It is appealing to imagine that the American story is one of independence and freedom, with only occasional exceptions to that. But we must correct ourselves by keeping those twined events in mind, for we're descendants of both the Mayflower and the White Lion, citizens of both Plymouth and Jamestown. If we celebrate what we imagine the Mayflower to represent, while burying what the White Lion does, then we're exonerating our history at the expense of the truth.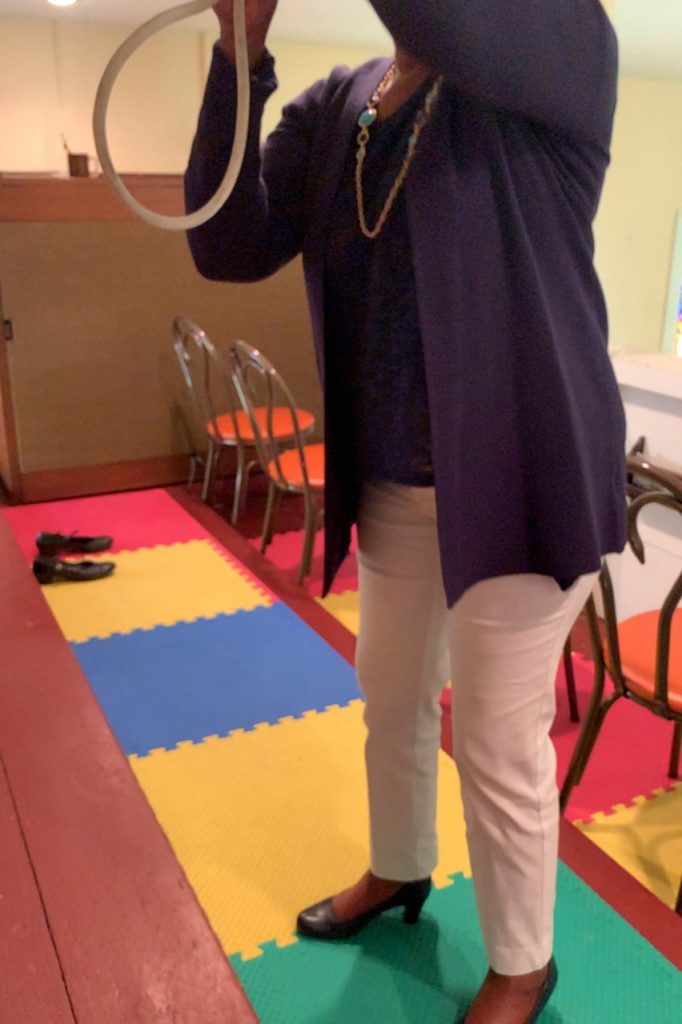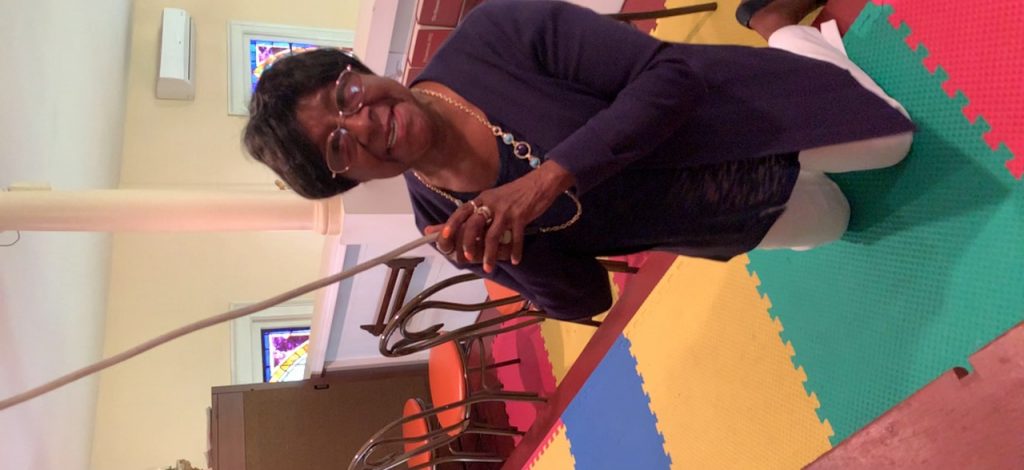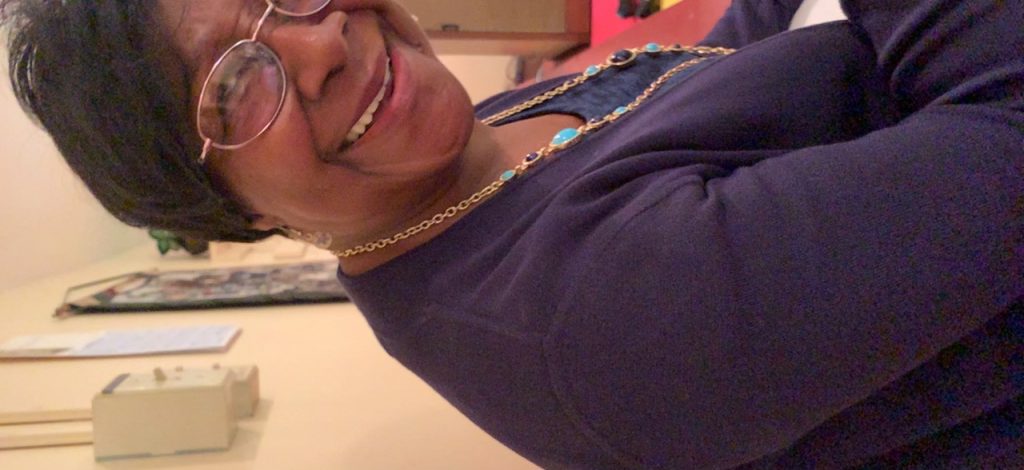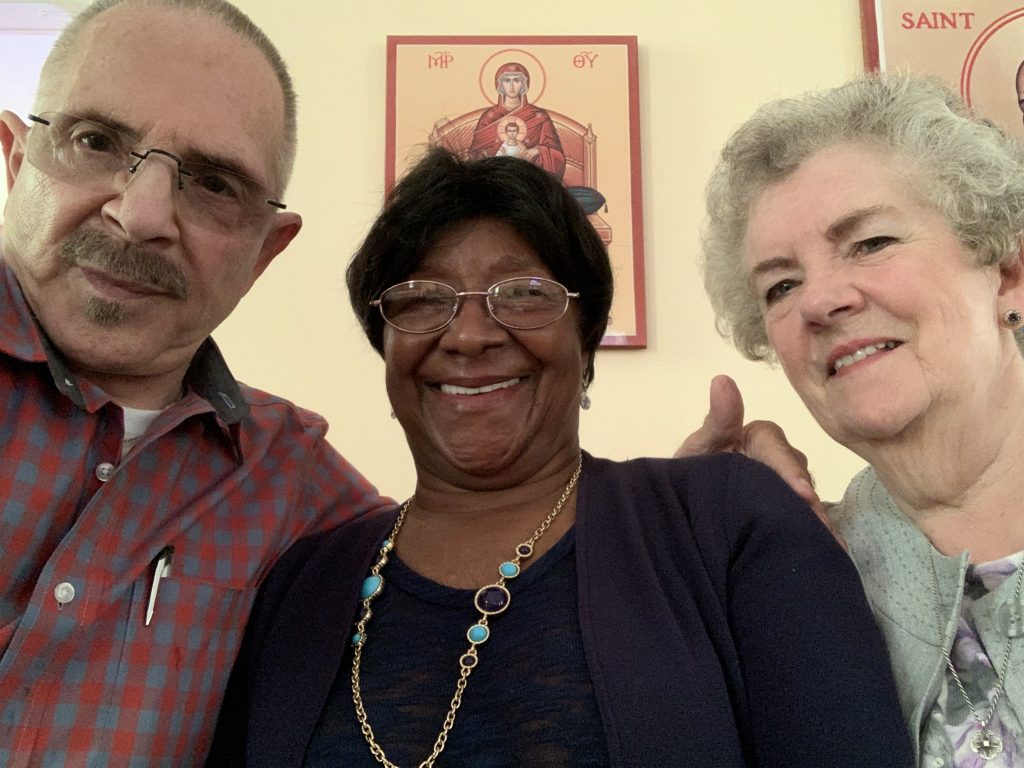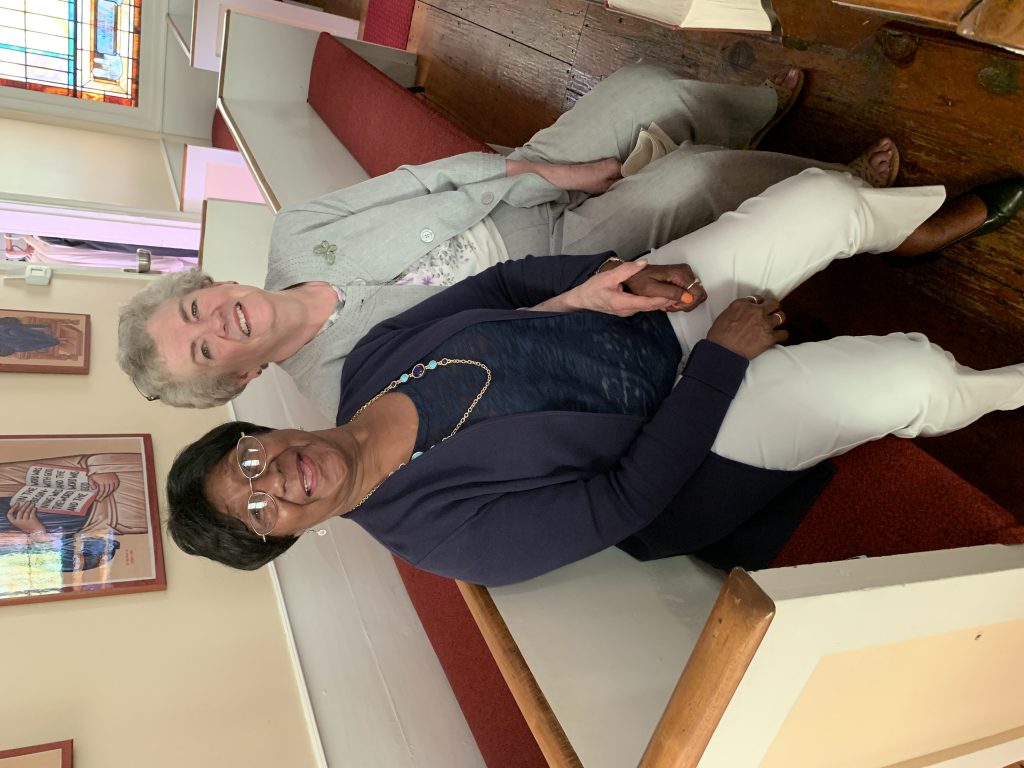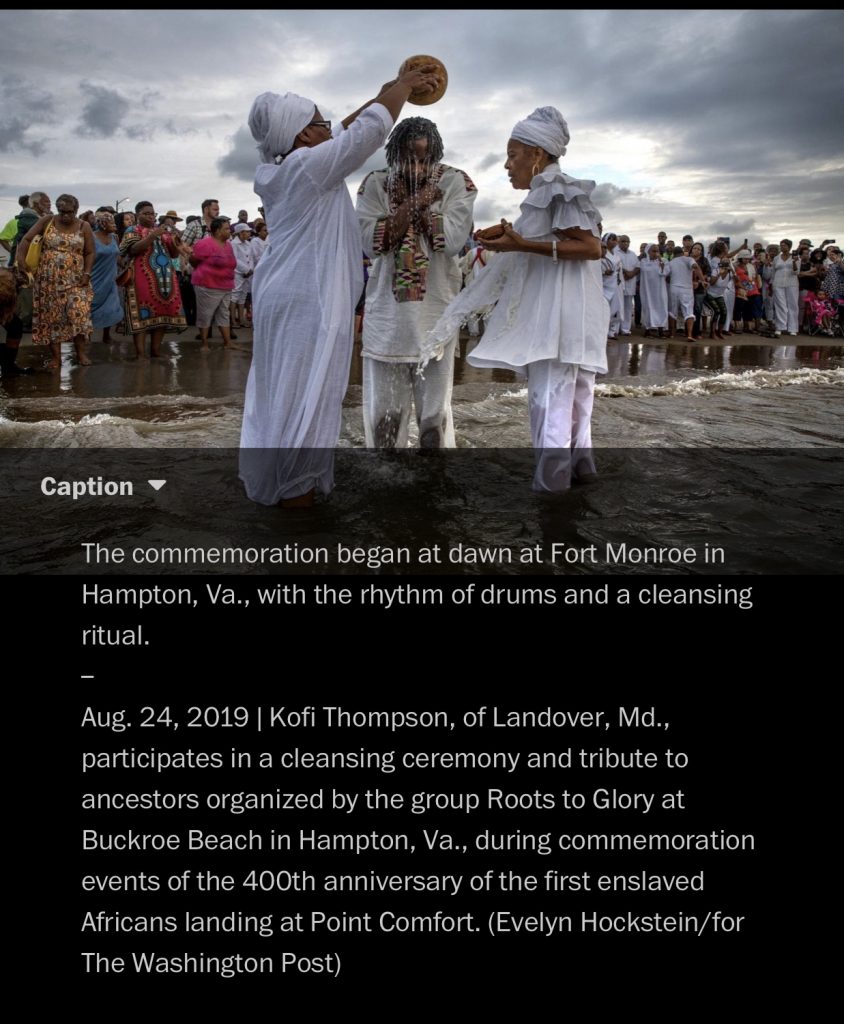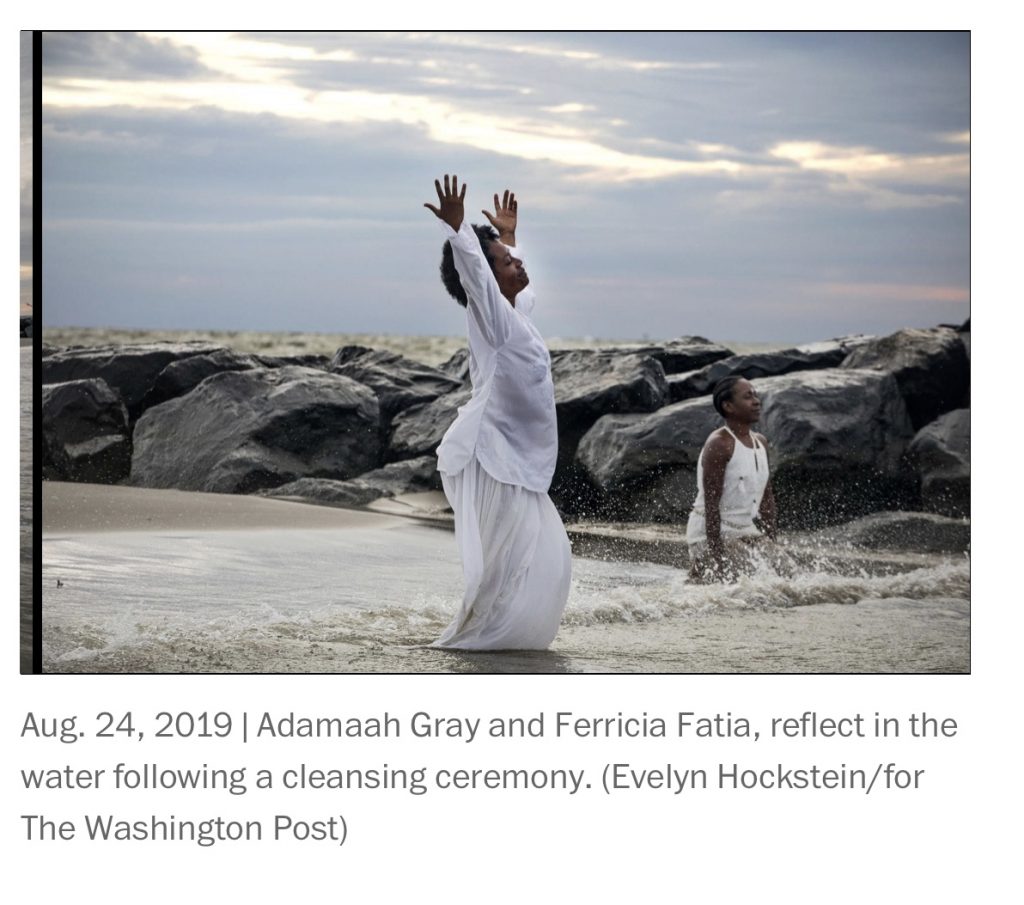 ---
THOUGHTS FROM OUR PRIEST-IN-CHARGE:
23 August 2019
My dear people,
Twice in the last couple of weeks, I have been asked the same question. And since it has come up repetitively and recently, I thought I should share my thoughts about it with you!
Some weeks ago Pastor Mark Newman and I were visiting St. Tikhon's Orthodox Church in America Seminary bookstore, church and museum, in Waymart. So there we were, a Lutheran serving an Episcopalian congregation, a newly-ordained Moravian pastor in the midst of collected and historical artifacts – and on the campus – of a very ancient, complex and intriguing expression of Christianity: Orthodoxy. The Orthodox Church in America, as I understand it, came into being as several 'national' Orthodox churches of immigrants from various countries, decided to form one Orthodox expression which would include several national identities and histories in one American Orthodox church. Confusing? Sure! That confusion and comparison of the variety of Christian expressions represented between us led Pastor Newman to look me in the face and ask: "Who's got it right?"
A fair question, indeed.
Then, last evening, over dinner, with a friend, I was asked: "What if we get to the 'pearly gates' and find out we have been wrong?" That is essentially the same question: "Who's got it right?"
One thing for sure is that sincere and pious people do, in fact and sincerely, WANT to 'get it RIGHT.' That's understandable. Jesus faced the same situation and question in his day. And his answer was, I believe, absolutely astounding. Only GOD, and GOD alone, ever gets it RIGHT!
Essentially, Jesus was saying that no religious tradition gets it all right – ever! He challenged the religious community of his day about their sense of religion as an exercise in keeping clean, obeying commandments, appeasing an angry God, making sacrifices, offerings, and burning incense, obeying dietary and sartorial regulations, being fearful and avoiding others who could pollute them and their own ritual purity, etc., etc.
Instead, Jesus made the outlandish suggestion that – according to Genesis – God created the whole world and loved [completely, sufficiently, entirely] everyone in the world. Jesus did NOT support the idea that 'religious' people 'rightly' earned the love of God and 'preferred-child' status. That, of course, brought everyone's religious 'behavior' into question. That led to the question: "If there is no 'pay-off' to religious 'behavior,' why bother?" The implication being, that if I'm not RIGHT (i.e. in favor with God) and somebody else is not WRONG (i.e. out of favor with God), what's the purpose and point of religion? What then are honest, sincere, pious people, such as ourselves, who WANT to be RIGHT supposed to do?
I believe that Jesus' radical insight had way more to do with believing and being in LOVE with God than it had to do with being 'right' about anything. That makes things a great deal easier. If you're truly in love with God, you will be truly in love with those whom God loves. The kind of religious behavior Jesus encountered, in his day, was more related to people being so much in love with themselves that they thought they needed to be FIRST in the affections of the Almighty. PURE in the sight of God. HOLY in the sight of their peers. SUPERIOR to others who were not like themselves, and who did not believe as they did. Their religion was centered on themselves and their own salvation.
The answer which Jesus offers is radical in that he suggests that true religion has little or nothing to do with saving one's self or making one's self right with God. Rather true religion for Jesus has everything to do with LIVING as a person who truly believes that salvation is God's completely-unmerited gift and that God loves ALL people EQUALLY. Essentially, that involves believing that GOD makes things RIGHT with us, and not the other way around! Religious behavior then becomes a matter of gratitude and living as one who believes in the unwarranted, boundless love, mercy and grace of God.
Consequently, Jesus' approach to religion very much echoes these words from the Prophet Micah [6:8] who lived some 700 years BEFORE Jesus.

He hath shown thee, O man, what is good: and what doth the Lord require of thee but to do justly and to love mercy, and to walk humbly with thy God?
So, the business of 'true religion' and the answer to the question : "Who's got it right?" is, I believe, simply "Whoever DOES JUSTICE, LOVES MERCY and WALKS HUMBLY with GOD" has it right.
The way to measure 'true' religion and 'right' religion is simply by looking at ourselves and our own beliefs and behaviors. If they reflect the words of the prophet Micah, then WE'VE GOT IT RIGHT! If not, we simply do NOT have it right!
So I write to ask you to work on being "right" by working for JUSTICE, in this world, and now. Is that too political? No! It is downright religious! And it is ancient religion at that.
Also, I ask you to remember that being "right" means advocating for MERCY, and that particularly for the poor, the dis-enfranchised, the marginalized, the exiled, the asylum-seekers, the imprisoned, widows, orphans, etc.
And, I write to ask you to pray and work for HUMILITY in our hearts as we love God – NOT for the purposes of our own salvation [which is God's free gift to all] – by loving and serving and advocating for others, even and especially those who seem least lovable to us.
So then, the answer to the question of "Who's got it right?" is he/she who DOES JUSTICE, LOVES MERCY and WALKS HUMBLY WITH GOD. That's who has it 'right!'
We do justice, love mercy and walk humbly because we believe that we are, in fact, saved by the love of God and absolutely NOTHING ELSE. Nothing saves us – neither religious behavior nor right belief – but God's grace ALONE. Proof of our belief lies in whether we LIVE as if we REALLY believe that TRUTH! Justice, mercy and humility simply are our religious behaviors. As we have learned from Jesus, our religious behaviors are not to acquire anything, but rather to share generously what we believe and teach and confess that we have so freely received in abundance from God and God alone.
Bless you in your doing. Bless you in your loving. Bless you in your walking.
+Fr. Ron
---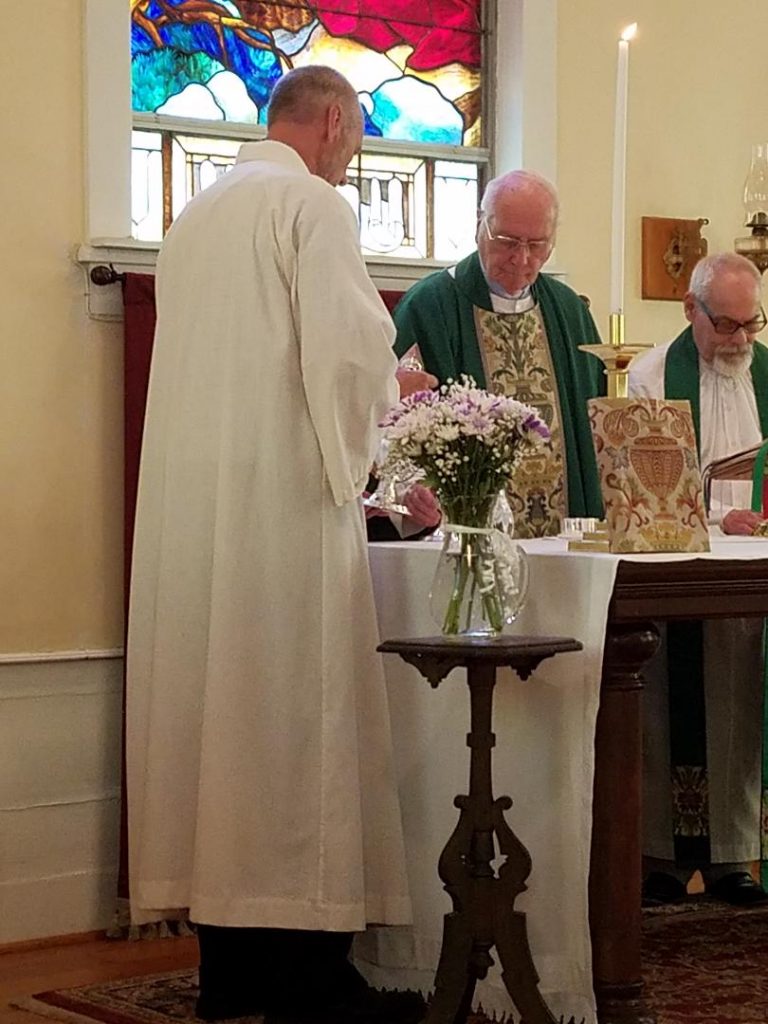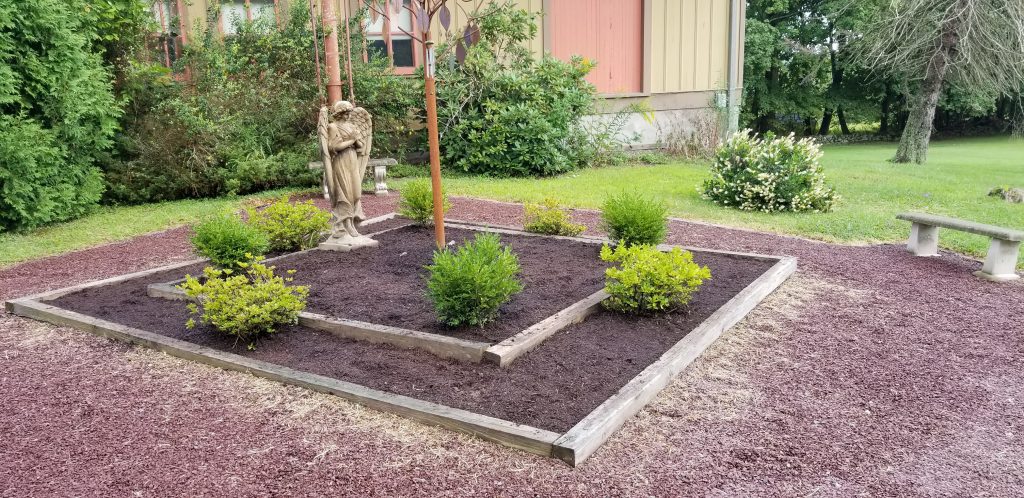 Thanks to our volunteers: Paul, Chris and Joan for putting in the work to remove all the weeks and put fresh mulch in the Memorial Garden – Hooray!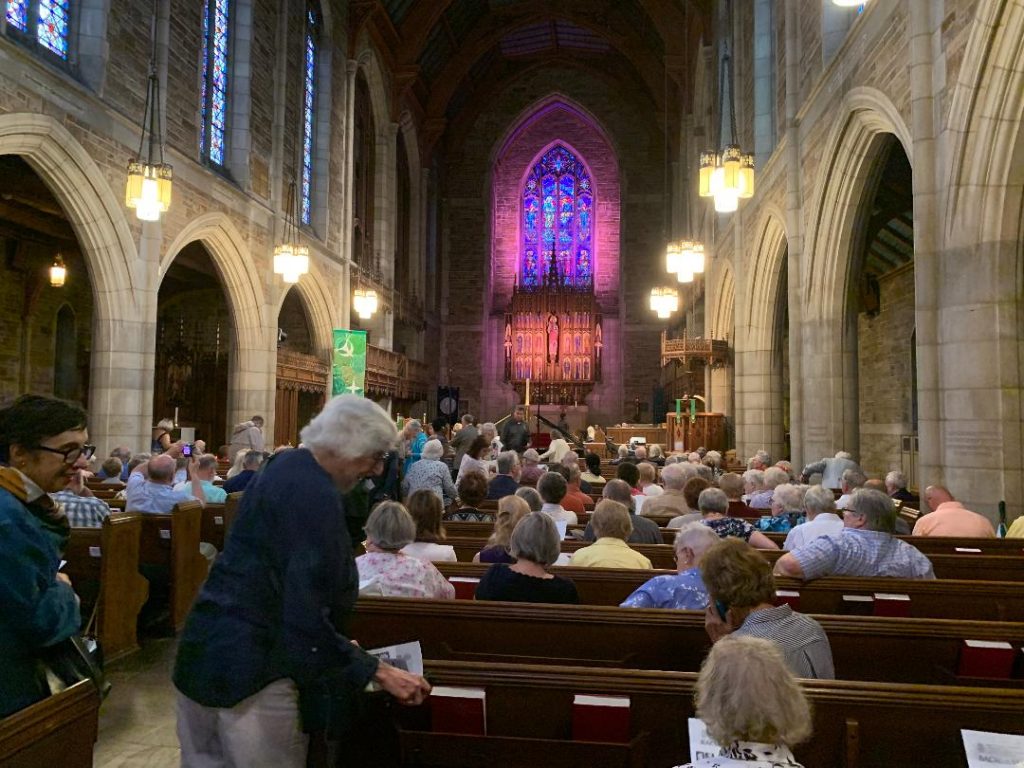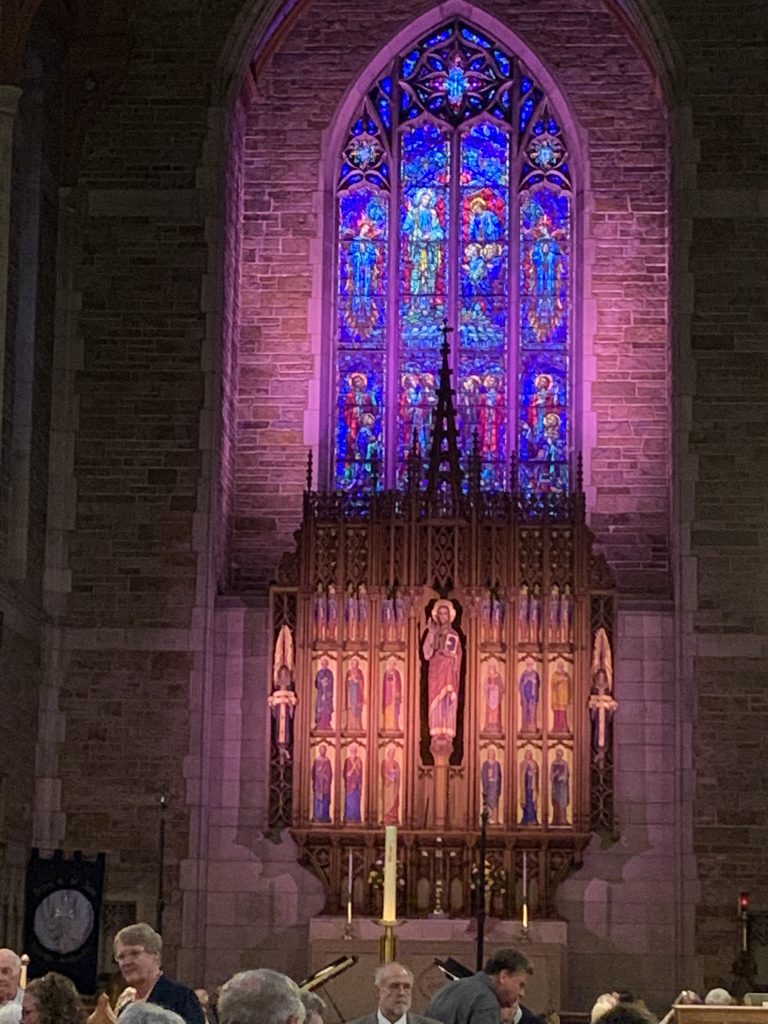 ---
Thoughts from our Priest-in-Charge:
19 August 2019
My dear people,
Lots happened yesterday at mass – not least of which was the baptism of Maddyn Grace Constantine – daughter of Victoria (Baldo) and James Constantine. What a happy celebration of God's gracious love it was!
We also encountered some very challenging Biblical texts. What could it possibly mean, in Luke 12, when Jesus says: "Do you think that I have come to bring peace to the earth? No, I tell you, but rather division!"?
What could Jesus possibly be saying when he asserts: "You hypocrites! You know how to interpret the appearance of earth and sky, but why do you not know how to interpret thepresent time?"
I believe that Jesus is talking about truth-telling. And Jesus is speaking to 'religious people' who are apparently having trouble either believing or telling the truth which is so apparent and clear to Jesus.
Jesus obviously thinks religion has something to do with understanding and interpreting and living in "the present time." Some people believe that such an approach to religion is "too political." They argue, therefore, that matters of "the present time" are NOT religious issues, and certainly NOT matters for discussion in the church. Jesus felt otherwise.
Jesus' primary concern was for the poor, the disenfranchised, the down-trodden. aliens and foreigners. His religion was based in advocacy and the search for justice and mercy for all, but, primarily for folks such as these! The religious establishment of his day disagreed with him. The religious, political, social and economic establishments of his day felt that their job was to keep themselves ritually and socially "clean" and publicly and economically un-encumbered by the needs of others – particularly the needs of out-casts and sinners. That included the poor, the disenfranchised and the down-trodden, the widowed and orphans, aliens and foreigners.They felt that Jesus was too 'political.' They felt that the people whom they didn't like and of whom they were afraid were "that way" because God didn't like them, or because they were sinners who were being punished and that there was no GOOD reason for the rest of society to care for them. Do you remember the cry of the crowds during Jesus' trial? They screamed: "Away with this man. He stirs up the people." They preferred a criminal to the truth-bearer that Jesus was! Their religion had to do with preserving the status quo and their own sense of entitlement and prosperity as God's gift to them and not to others! How wrong they were.
That, I firmly believe, is what Jesus was trying to point out in the Gospel yesterday. Jesus is saying that his understanding of TRUE RELIGION has nothing to do with denomination, political party, country of origin, nationalism, any given spoken language, etc. His sense was that neither "Jew nor Greek, male nor female, slave nor free" constituted a category beyond or outside of the grasp of God's love. Jesus' grasp of religion implies God's love for ALL of God's own creation. Religion for Jesus implies that those who believe – as we do – that they are the recipients of that love, in full measure, are called to share that same love with ALL people and particularly those in need.
Jesus knew that his "sense of religion" would eventually cause separation from those who think that RELIGION has something to do with "religious identities" other than a "Christian identity," which understands ALL people as children of ONE GOD who loves ALL who are created. Agreement with Jesus' sense of religion will certainly divide people from each other – even those in intimate relationship from birth in families! Jesus' sense of religion is unquestionably RADICAL (that means it goes right 'to the root' of the matter!).
Jesus' religion is greater and better than any denomination or party or nation. We come together around this RADICAL GOOD NEWS that Jesus preaches, and that changes – transforms – us. That gives us a perspective which takes away all fear. That encourages us to live in the world as people who believe and trust in the un-deserved grace and forgiveness of God which we ourselves have received from God. And, we dare to share that same love with the world – and particularly with those in need – not because any one of us deserves it, but because it is God's free gift to us. Consequently, we share that which is not ours in the first place with others who, with us, are also God's children.
The message is simple. The message is radical. If you believe this message you just might find yourself opposing the ideas of – and being separated from – others, even from some to whom you might be genetically related: those who may not grasp the radicality of the message of Jesus' understanding of religion!
That may be the 'cost' for believing what Jesus believed – but it will certainly provide the privilege of serving and loving those whom Jesus loved and served.

Bless you in your loving and serving,

Fr. Ron
thoughts from our Priest-in-Charge:
August 14, 2019
My dear people,
I am so deeply gratified that so many of you were able to join me at the August Bach at Noon concert performed by the Bethlehem Bach Choir at St. John's Lutheran Church in Allentown, on Tuesday, August 13.
This was the first of an annual concert to be sung (in perpetuity!) in memory of our dear Maestro, James A. Simms.
That very night this little video about the conductor, Greg Funfgeld, was aired. If you were unable to attend the concert this will give you a glimpse of what is so deeply satisfying and wonderful about those performances. If you were there – you just might see yourself!
Pax et bonum,
Fr. Ron
Begin forwarded message:From: Cheryl Dungan <Cheryl@bach.org>
Subject: PBS article
Date: August 15, 2019 at 12:04:52 PM EDT
To: Ronald Miller <rrmjas@ptd.net>
Hi Ron—Here is the link to the PBS piece—enjoy and share! Cheryl https://www.wlvt.org/blogs/northampton/the-music-man-of-bethlehem/ Please join us as we present the timeless and profound music of J. S. Bach in a season long celebration of musical connections! Cheryl Dungan, development officer 610.866.4382 Ext. 113 The Bach Choir of Bethlehem 440 Heckewelder Place, Bethlehem, Pa 18018 Visit Bach.org and follow us on Facebook!
---
Vestry members: Please be advised that I am changing our scheduled Vestry meeting for this Sunday August 18th to Sunday August 25th. Hopefully this has not caused any of you difficulty in rearranging your schedule. Thanking you in advance for your understanding. As always, we will meet after 10am Mass. –Michael Nigro, Sr. Warden
---
Thoughts from our Priest-in-Charge:
6:30 AM, Sunday, 11 August 2019
My dear people,
Although I will not be presiding at worship this morning at St. John's – I know that there will be significant ecclesiastical leadership (you!) and several visiting clergy as well.
The church is a wonderful organism, known by us to be the Body of Christ and believed by us to be the mechanism by which Christ is known, seen and heard in the world today.
Just a few minutes ago, I heard the Angelus address by Pope Francis to the crowds in Rome. He spoke emphatically about the 70th anniversary and importance of the Geneva Conventions and common agreements reached over the years concerning humane treatment of people, primarily during war. He is always very concerned about people who suffer, wherever they may be in the world. Last week he mentioned – and prayed about – the horrors of the domestic terrorist shootings here in the U.S., in Texas and Ohio.
He was guilty – yet again – of 'preaching politics.' His 'guilt,' as I see it, was the 'guilt' of believing that the faith tradition of Jesus – of which he is a primary, universal voice and figure – has something [perhaps, EVERYTHING!] to do with this world and how we live in it together, as individuals, families, congregations and nations.
In response to the current and very apparent erosion of freedoms in our world and society today, the very obvious growth of nationalism, xenophobia, racism, bigotry, and all-out ugliness in our world, I heard the question asked: "But what can I do. I don't have much money?" And the response given by the same person to her own rhetorical question was: "I can pray." Well, that's right. That's not a bad place to start. And so, you might ask, what good will that do? A great deal, for sure!
Prayer might – and should – change the heart of the person praying more than it is likely to change the heart of God. Prayer might inform any individual who bows before God that the world is full of invitations to believe things which are contrary to the Body of Christ. For example, the 'world' wants you to believe that you and the church are powerless, effete, ineffectual, incapable of making a change and that the church really is the 'opiate of the people.' Well, as we both know, as baptized members of the Body of Christ, it is quite the opposite! Our strength comes from our humility which allows God to speak to us (in prayer!) and to change our hearts! Our strength comes from following Jesus' example of serving others and washing the feet of those who might betray us the very next day. Our strength comes from God; and that may not be 'understood' by the rest of the world – and it surely won't look like any kind of imperial or triumphal strength of this world. Our strength comes from the truth. And our strength comes from not being convinced that there is "nothing we can do" about today's world. Believing, speaking and living the truth is important and difficult work. The world will not understand that about us; and the world will accuse us of being "political" rather than "religious" or "Christian." Do not be fooled by voices which invite you to believe that you are NOT the Body of Christ, and ask you to make Christ invisible! Do not accept the invitation to silence your Christ, by NOT addressing the issues of our world today!
The miracle starts with God changing our own hearts to see and love the world as Jesus did. The rest will follow, for sure. It begins for us by speaking the truth in love to all people, at all times and in all places.
As we know from first-hand reports, white hate groups have lived and thrived in our very own neighborhoods here. Not long ago an antique dealer told me of his discovery of an old chest in an attic – right in Hamlin – containing the white robes and membership list of the local KKK. It would be foolish to believe that the ideas and ideals of such organizations have disappeared from here – or anywhere, for that matter – never to return. And if we know anything about evil, it is persistent. However, if we know anything about LOVE, it is ETERNAL!
The Body of Christ carries a lighted lamp, an eternal flame, into a dark world, so that others might see what we see: a God of love who creates and loves all people, a God who is engaged in the business of praying to us and a God who asks us to be the "em-Bodiment" of God's own love in our lives, as Jesus was in his day and life and culture and society. Jesus, as you know, lost his life because he 'preached politics;' and we thank God that he did. And although it may be challenging and difficult to stand for peace and love and truth today, we know that the real peril for us, as Christians, is when we do NOT em-Body, proclaim and share the love of Christ. Were we to do that at St. John's, we would ignore and deny our very own Mission Statement: "to welcome all people to embody the love of Christ." That would certainly silence and make invisible the Christ we love and worship, who needs to be seen and heard in the world, now more than ever.
I look forward to being with you and continuing the on-going celebration of our life together as the Body of Christ, alive and at work at St. John's in Hamlin and in the rest of our world. For Christ's sake, for our's, and for the world's.
I am yours, In Christ,
Fr. Ron
---
https://docs.google.com/document/d/1kcEWx9znv22ZfpSfIZikg9l4RuytO-OtPjqHEbCXFi4/edit?usp=sharing
Parish Nurses Present…..
Know Your Numbers!
High Blood Pressure is also called Hypertension. Blood pressure (BP) is the pressure of the blood against the walls of the blood vessels as it moves through the body. It various throughout the day but if it stays high for an extended period of time it can cause serious health problems. It is known as the "Silent Killer" because it often does not have any warning signs or symptoms. Early identification through monitoring is important to avoid damage to the body's organs which can lower the chance of heart attack and stroke.
Systolic blood pressure is also referred to as the "TOP" number represents the pressure generated when the heart beats. A systolic number less than 120mm Hg is considered normal and when 140mm Hg or greater normally indicates hypertension in most people.
Diastolic blood pressure is also referred to as the "Bottom" number. It represents the pressure in the blood vessels when the heart is at rest. A diastolic number less than 80mm Hg is considered normal and when 90mm Hg or higher it normally indicates hypertension in most people.

| | | | |
| --- | --- | --- | --- |
| Blood Pressure Category | Systolic mm Hg"Top Number" | | Diastolic mm Hg"Bottom Number" |
| Normal | Less than 120 | and | Less than 80 |
| Elevated | 120-129 | and | Less than 80 |
| High Blood Pressure(Stage 1 Hypertension) | 130-139 | or | 80-89 |
| High Blood Pressure(Stage 2 Hypertension) | 140 or higher | or | 90 or higher |
| Hytertensive CrisisContact your doctor immediately | Higher than 180 | And/ Or | Higher than 120 |
American Heart Association (2017). What is High Blood Pressure? Retrieved from:www.heart.org/answerbyheart
Risk Factors: that increase the chance of developing hypertension include:
Controllable Factors Cannot be modified or difficult to control:
Smoking or exposure to secondhand smoke 1)Family History
Diabetes 2)Race / Ethnicity
Being obese or overweight 3)Chronic Kidney Disease
High cholesterol 4) Obstructive sleep apnea
Unhealthy diet 5) Gender (males)
Physical Inactivity
Certain medication such as birth control pills, steroids, caffeine, illegal drugs & alcohol.
Accurate blood pressure measuring is imperative to ensure proper diagnosis and treatment. Studies have found that individuals who are engaged with self monitoring do better in improving their overall health!

COMMON PROBLEMS THAT ACCOUNT FOR INACCURATE MEASUREMENTS:
Before Monitoring Be Sure To: Empty your bladder! A full bladder can change your reading by 10-15mm HG
Make sure your sitting properly! Back, arm and feet need to be supported in addition to legs being uncrossed. Each of these can affect the reading by 2-10 mm Hg
STOP TALKING! Conversation while monitoring can affect the results by 10-15mmHG
Ensure proper size and placement of cuff. Wearing the cuff over the clothing can affect the results by 10- 40 mmHg.
Keep A Journal:One blood pressure reading gives you a snapshot of what was happening in that moment. Several readings over time help the physician get a better view of what is happening. Sharing your journal with the physician on your appointment helps ensure a full view which increases your chances of having the best treatment approach.
If you get a high blood pressure reading:
A single high reading is not an immediate cause for alarm. If you get a reading that is slightly or moderately higher than normal, take your blood pressure a few more times and consult your healthcare professional to verify if there' s a health concern or whether there may be any issues with your monitor.
If your blood pressure readings suddenly exceed 180/120 mm Hg, wait five minutes and test again. If your readings are still unusually high, contact your doctor immediately. You could be experiencing a hypertensive crisis.
If your blood pressure is higher than 180/120 mm Hg and you are experiencing signs of possible organ damage such as chest pain, shortness of breath, back pain, numbness/weakness, change in vision, difficulty speaking, do not wait to see if your pressure comes down on its own. Call 9-1-1 (American Medical Association, 2015).
References:
American Heart Association (2019). Monitoring your blood pressure at home. Retrieved from: https://www.heart.org/en/health-topics/high-blood-pressure/understanding-blood-pressure-readings/monitoring-your-blood-pressure-at-home
American Medical Association (2015). Self measured blood pressure. Retrieved from: https://www.ama-assn.org/delivering-care/hypertension/what-you-need-start-self-measured-blood-pressure-your-practice
US Department of Health and Human Services. (2014). Million hearts. Retrieved from:https://millionhearts.hhs.gov/files/MH_SMBP_Clinicians.pdf

thoughts from our Priest-in-Charge:
5 August 2019
My dear people,
By every measure possible, yesterday was a smashing success at St. John's. Attendance was wonderful – a total of 55 between the two masses.
The weather was flawless. And, the ecumenical picnic was splendid. Lots of folks worked very hard preparing and anticipating every need. Thanks to all for that! Folks came bearing gifts of food to share from the Newfoundland Moravian Church, Hemlock Grove Methodist Church and I know we had folks representing the Baptist, the U.C.C. and the Presbyterian traditions as well. What a good time! The church really is a large and beautiful body.
By contrast, it has been a horrible week of domestic gun violence in our country. We all know that guns do not shoot themselves. But we also know that hate, fear, ignorance, racism, nationalism, xenophobia, etc. are contributing factors which embolden people to act out in violence, with guns, toward others of whom they are afraid and whom they hate for no good reason and certainly for no Christian reason. Whose job is it to teach genuinely Christian ideas – and their importance – which are totally different from and contrary to those ideas which lead to gun violence and domestic terror? Surely, that job is ours, as the church, of course!
Have you ever heard it said that the church should not speak about political issues? Those are ALL political issues and they are ALL contrary to Christian (and it could be said American) values. So, who would not want the church to speak its mind on and oppose these bad ideas? Only, I suppose, those who support such awful ideas.
1. My first observation is that the church is not only a large and beautiful BODY it has a large and beautiful VOICE, and a prophetic one at that!
2. My second observation is that the large and beautiful body of the church not only ought but must use its prophetic voice, otherwise it BECOMES dead (commits suicide?) – long before the night falls and life is demanded of us. Our silence denies CHRIST a VOICE, here and now!
Yesterday we thought about the meaning of the parable of the rich man who builds larger barns to store his abundant harvest and decides NOT to work any more, to take it easy, to "relax, eat, drink, be merry." Well, we know, that that night he dies – and the question is asked, what good is all of his labor then? The point is, if he did NOT use his resources according to his beliefs, desires, and convictions during his life, there is no guarantee that his will about those things will be respected or followed-out after he is dead.
I suggest that sometimes we are tempted, as was the rich man, to put our faith, and Christ's body (the church), and our prophetic voice into a barn – and to store them up for later – so that now we might "relax, eat, drink, and be merry."
3. The third observation, which is not mine, but that of the writer of yesterday's Gospel (Luke 12:13-21) is that we need to use our body – the Body of Christ – our faith and our voice to proclaim the Gospel HERE and NOW! If we don't, we effectively make Christ invisible and silent – and Jesus was neither of those things!
Tomorrow may be too late.
I have never before in my life felt that the importance of the prophetic WORD of GOD'S GOOD NEWS has been as absolutely important as it is now. As Christians, we must say NO to hate, fear, ignorance, racism, nationalism, xenophobia, etc. And we MUST say NO to them NOW, while our barns are full. And we must use the fullness of our barns in order to say NO to those attitudes and ideas which are so clearly contrary to ours and which contribute to the domestic terrorism of gun violence which plagues us now.
If we're honest, we're already late in making our proclamation and taking our stand together for Christian values. And the time has come for 'Christians' to stop sugar-coating non-Christian values with pious silence and hypocritical complicity, and invisible support of evil.
Our barns are full. The work of prophetic Christianity will look a bit busier and sound a bit louder than relaxing, eating, drinking and being merry. But our busy-ness about the Gospel and our noise about justice NOW will, without doubt, be accompanied with joy and satisfaction, and that of an eternal sort.
Here's a little refresher course – from the middle ages – of what Christian Values look like. They're nothing like the list of anti-values above which leads to violence.
You might just ask how the current political climate in our nation and in our world today measures up to these long-standing and incontrovertible Christian Virtues and Values. Chivalric virtues in medieval Europe In the 8th Century, upon the occasion of his coronation as Holy Roman EmperorCharlemagne published a list of knightly virtues: • Love God • Love your neighbour • Give alms to the poor • Entertain strangers • Visit the sick • Be merciful to prisoners • Do ill to no man, nor consent unto such • Forgive as ye hope to be forgiven • Redeem the captive • Help the oppressed • Defend the cause of the widow and orphan • Render righteous judgement • Do not consent to any wrong • Persevere not in wrath • Shun excess in eating and drinking • Be humble and kind • Serve your liege lord faithfully • Do not steal • Do not perjure yourself, nor let others do so • Envy, hatred and violence separate men from the Kingdom of God • Defend the Church and promote her cause.[Wikipedia]
Bless you, one and all, in your vociferous busy-ness about BEING the BODY of CHRIST who pursues, proclaims, and teaches CHRISTIAN VALUES and VIRTUES and seeks JUSTICE in the world today. By being UN-willing to store our CHRIST in a barn, unused, for later, we can know and BE that BODY with a prophetic VOICE alive NOW, no matter what may be demanded of us this night!
God's richest blessing be yours – to use today!
In Christ,
Fr. Ron
---
St. John's Episcopal Church Events: August 2019
Fr. Ronald R. Miller, Priest-in-Charge; Mass ~ Sundays at 8am & 10am
Aug. 4th 11:30ish-? Ecumenical picnic in our Pavilion
Aug. 6th 9:30am Daughters of the King (DOK) meets
Aug. 6th 10:45am Prayer Group Meets
Aug. 10th 9am-1pm Thrift Shoppe Open for business
Aug. 11th 8 & 10am Supply Clergy: Rev'd. Ladd Harris preaching
Aug. 13th noon Bach at noon Concert @ St. John's Lutheran-Allentown in loving memory of Maestro James A. Simms, 37 S. 5th St., Allentown, PA**
Aug. 14th 10-noon & 5-7pm Free Clothing Event @ Thrift Shoppe
Aug. 18th 10am Maddyn Grace Constantine Baptism during 10am Mass
Aug. 18th 11:30ish Vestry Meeting at Church
Aug. 20th 10:45am Prayer Group Meets
Aug. 24th 9am-1pm Thrift Shoppe open for business
**If you are still in need of a ride to the August 13 concert, please contact Bev in the parish office J
---
Thoughts from our Priest-in-Charge:
29 July 2019
My dear people,
Yesterday, we encountered this peculiar passage from Luke's Gospel, Chapter 11:
"And he said to them, "Suppose one of you has a friend, and you go to him at midnight and say to him, `Friend, lend me three loaves of bread; for a friend of mine has arrived, and I have nothing to set before him.' And he answers from within, `Do not bother me; the door has already been locked, and my children are with me in bed; I cannot get up and give you anything.' I tell you, even though he will not get up and give him anything because he is his friend, at least because of his persistence he will get up and give him whatever he needs."
What could the words, which I have put in bold type, above possibly mean? That we do NOT help our friends because it is inconvenient? Doesn't that strike you as strange? Does it mean that our friends are the ones we can really afford NOT to HELP because we are so confident of our relationships with them that we know THEY will NOT abandon us? That seems very backward, and dis-respectful to me! What could this passage possibly mean – and mean for us – today?
The best I can come up with is that this parable is pointing to the basic self-interested, self-ishness of us human beings. We essentially do and do NOT do things on the basis of their convenience or inconvenience for OURSELVES. Apparently that applies – to some degree or another – even with our friends! Understanding that makes it a bit easier to make our confession that : "we are by nature sinful and unclean and cannot save ourselves."
To me, the irony in this parable is that the friend who is knocking at the door – seeking assistance – understands human nature (and sinfulness) as well as he understands human need. So, he engages on teaching a little lesson. The door-knocking friend creates a situation of need for the man in bed. At the same time he threatens to create a situation of need for the sleeping man's whole household who are asleep with him in bed (!). The door-knocker is quite simply engaged in the business of teaching what might be called an "object lesson." Since the sleeper either does not or will not understand the need of others, the door-knocking man begins to create a need for the sleeper himself and his whole family: i.e. the need for quiet, and peace and a household at rest.
Consequently, in seeking to have his own needs met, the sleeper gets up to get the bread for the knocker – quite simply because it will benefit the SLEEPER at least, if not more, than it will benefit the KNOCKER and his guest.
This parable is, of course, applicable to the situations in our world today. There are KNOCKERS in need around the world – and plenty of them – at our southern borders in particualr. National attitudes prefer not to be disturbed, not to open the door, and to be left alone and allowed to sleep. But those KNOCKERS simply will not (and I believe should not) go away. Our confession that 'the earth is the Lord's, and the fullness thereof' demands that we share. And this parable teaches us that if we are not moved to share and care and assist and succor those in need for their sakes, we will be brought to do that for our own sakes!
As Christians, we understand these things, and therefore, we advocate, without embarrassment, to aid and assist others – for God's sake, for their sakes and for our own sakes. It's really quite simple. And, as the wealthiest people in the world in the wealthiest nation in the world, it would be a bald lie and a pathetic hypocrisy to say that there are not three extra loaves in our larder to share with the KNOCKERS at our door who, with good reason, importune us for assistance. When help is needed so badly that the asker does not care whether it comes from a generous heart or one seeking its own comfort, you can be sure the need is real.
Sleepers awake!
Bless you in your generosity – not only of substance and money but of attitude – toward those who are KNOCKING at our door!

In Christ,
Fr. Ron
22 July 2019
My dear people,
We were only one short of an attendance of 50 faithful yesterday! Thirty or so of those folks took advantage of the 'FIVE WISHES' end-of-life planning program offered by Jean Pettinato, R.N., in cooperation with our Parish Nurse, Judi Kilpatrick, Ph.D. Jean was kind enough to offer lunch, and to provide the very helpful information she shared twice: both after the 8am and 10am masses. Thanks Jean! If you missed the program and if you have questions, Jean will, I am sure, be glad to answer and respond.
DON'T FORGET: AUGUST 4TH – CHURCH PICNIC POT-LUCK, in the pavilion at St. John's, after the 10am mass. Our MORAVIAN friends will be joining us – and anybody and everybody else you invite and bring along. We will supply the hot dogs and hamburgers. The rest will be shared. [I'm expecting 12 baskets of left-overs!] I look forward to a good time together – rain or shine.
I have decided to call today "HAIRY MARY DAY!" I'm even tempted to call it "Scary Hairy Mary Day."
Why? You might ask. Wait 'til you see the picture below.
As recently as 2016: "Recognizing St. Mary Magdalene's role as the first to witness Christ's resurrection and as a "true and authentic evangelizer," Pope Francis raised the July 22 memorial of St. Mary Magdalene to a feast on the church's liturgical calendar. . . ." VATICAN CITY (CNS)

In all four canonical gospels, she is a witness to the crucifixion of Jesus and, in the Synoptic Gospels, she is also present at his burial. All four gospels identify her, either alone or as a member of a larger group of women, as the first witness to the empty tomb, and the first to testify to Jesus's resurrection.For these reasons, she is known in many Christian traditions as the "apostle to the apostles". Wikipedia
But many people have come to believe that Mary from Magdala had a tarnished history and something of which to be ashamed in her past.
"From the beginning she was associated with a nameless penitent woman, who previously having been a prostitute, converted and followed Christ. As the Gospel does not mention her name, she was a perfect character for preachers, an example of penitence, but also an explanation why women are not to be given full rights in the Church: because they are sinful (no mentioning Eve who brought the original sin on all of us… Those women.)
The legend has it that having witnessed Jesus' crucifixion and his resurrection, Mary Magdalene went to live an ascetic solitary life on a desert, praying and fasting . . . . She did not care about any mundane objects, including her clothes, so she wore the same veils until they wore off and fell apart. To protect her modesty, her bodily hair miraculously grew in abundance!"

So, now, take a gander at this – rather scary to me – depiction of the saint herself (painted by a man) – from the 15th c. painting in Warsaw – after traditions (and hair!) have grown around ideas about her which are based on very few facts and a much-confused understanding of who she really might have been.
Attavante degli Attavanti and workshop, Mary Magdalene in "Horae ad usum Ecclesiae Romanae", ca. 1492, Royal Castle in Warsaw
It is widely accepted among secular historians that, like Jesus, Mary Magdalene was a real historical figure.Nonetheless, very little is known about her life. Unlike Paul the Apostle, Mary Magdalene has left behind no writings of her own, nor were any works later forged under her name, as was common for the other disciples.She is never mentioned in any of the Pauline epistles or in any of the general epistles.The earliest and most reliable sources about her life are the three Synoptic Gospels of Mark, Matthew, and Luke, which were all written during the first century AD. Wikipedia
St.Mary Magdalene is celebrated in the Orthodox churches of the east as one of the Myrrh-Bearing Women, of whom the Orthodox Church provides an icon.
"The myrrh-bearers had brought funeral spices and ointments to finish committing Christ's body to the grave. They were the first to see the empty tomb and were instructed by the risen Lord to bring the joyful news to the apostles. There are eight women who are generally identified as the myrrh-bearers. Each of the four Gospels gives a different aspect of the roles of these eight women at the cross and at the tomb on Easter morning, perhaps since the eight women arrived in different groups and at different times. The eight are: • Mary Magdalene • Mary, the Theotokos (the Virgin Mary) • Joanna • Salome • Mary the wife of Cleopas (or Alphaeus) • Susanna • Mary of Bethany • Martha of Bethany Of the eight, the first five are the more prominent and outspoken. The last three are included according to tradition. Five of these women were also very wealthy; the women of means were Mary Magdalene, Joanna, Susanna, and Mary and Martha of Bethany." Orthodox Wiki
It's worth taking a moment to think of what has happened to women in the written and un-written traditions of the church: the church which did NOT begin as, but evolved into, a male-dominated institution which – only after the first thousand years or so – in some parts, insisted on celibate male clergy. It was only as recently as December, 1981 that an iconic mosaic image of Mary Mater Ecclesiae (Mother of the Chuch) appeared in St. Peter's Square in Rome. The first image of the first woman, and Mother of Jesus and the Church, at last! That's real food for thought. That's about 20 centuries late, isn't it?
So, today, I invite you to give special thanks for the women you know (and the ones you don't) who, in our own day, have broken the gender-based ordination rules of many churches. Our congregation is blessed to have such women in our midst: Carole McCallum and Sarah Miller, for example. (Have I forgotten or missed any?)
Oh, by the way, and as you know, EVERY WOMAN is ordained in Holy Baptism to the Universal Priesthood of All Believers. Maybe that's what was going on in the Gospel yesterday, when Mary sat at Jesus' feet and Martha was busy (way too busy!) in the kitchen. Maybe Mary was attending seminary, and learning what it was she was going to share, and think, and do, and say, and become in Jesus' name, as one of his apostolic disciples. An exercise worthy of us all.
So, happy "Hairy St. Mary Day" to you, today! And, although there is LITTLE we actually KNOW about her, there is certainly MUCH we can emulate in the EXAMPLE of a loving, caring, sharing, generous woman who knew and loved Jesus and was with him through thick and thin. She certainly sat at his feet as did MARY the sister of MARTHA and LAZARUS about whom we read in the Gospel yesterday.
Some other GOOD NEWS:
Our receipts – in just one week's time – for our special appeal to offer relief for refugees at the southern border of our nation total over $1,100. You may still want to contribute. Mail your gift to the church or place it in the offering plate. Mark it clearly "Border Relief." Your giving record will be credited and your gift will be forwarded to Bishop Kevin to be sent to assist those in need.
Bless you,
Fr. Ron
_______________________________________________________________________________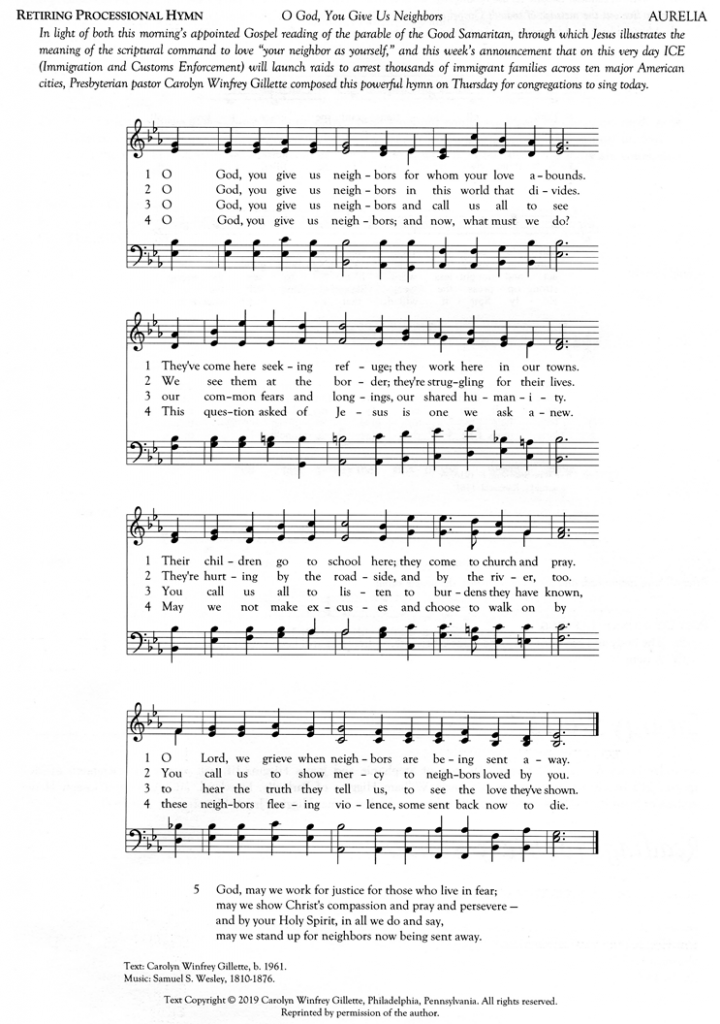 My dear people,
Pastor Christopher Weidner just shared this hymn – written specifically for this past Sunday and sung first in a Lutheran church in Denver – just 4 days ago!
I've asked Kathleen to plan on using it this week at St. John's. I think we should sing it as we present your "above and beyond" gifts to the "Two Denarii Fund" at the altar during the offertory on Sunday.
You'll know the music: it's what we usually sing "The Church's One Foundation" to. These words, however, are powerful and very current for our use in this day and in our church, and were intended to address the government "crack-down" on immigrants, initiated last Sunday.

Have you ever heard of the SINGING REVOLUTION in ESTONIA?
A traditionally Lutheran country, Estonia has suffered much from being a political foot-ball. However, the people were able, with music and song, to bring successful results to impossible political realities with the unity created by music and the power of song.
Martin Luther referred to music as the "Handmaid of Theology." And so, I believe it is.
Let us sing on!
Fr. Ron
P.S.
FYI: re The Singing Revolution in Estonia
Historical background of the SINGING REVOLUTION: Caught in the middle between two aggressively expansionist superpowers, Nazi Germany and the USSR, and pledged to the Soviet Union by the secret clauses in the Molotov–Ribbentrop Pact between the Nazis and the Soviets, Russian forces invaded and "annexed" the Baltic states Estonia, Latvia and Lithuania in 1939, at the beginning of World War II.[4] As was the case in Latvia and Lithuania, by the end of the war more than a quarter of the Estonian population had been deported, executed, or had fled the country. During the turbulent decades that followed, music became a powerful unifying force in the Baltic republics – a means of preserving the country's national identity, as well as a tool for political resistance in the face of cultural genocide.
The power of a peaceful resistance: Between 1986 and 1991, while there was violent turmoil and struggle for independence from the Soviet Union in the other Baltic states, Estonians courageously and peacefully demanded that the Soviets recognize their country's right to statehood and self-governance. The revolutionary songs they created anchored Estonia's struggle for freedom, which was ultimately accomplished in 1991 without the loss of a single life. The Estonian activist Heinz Valk, who first dubbed Estonia's resistance the "Singing Revolution",[5] said proudly of his countrymen, "Until now, revolutions have been filled with destruction, burning, killing, and hate, but we started our revolution with a smile and a song."[6] Singing fueled the non-violent revolution that defeated a very violent occupation.
Thanks to former immigrant parishioners of mine and to WIKIPEDIA for the above info. R.

St. John's Episcopal Church – Events for July, 2019
Father Ronald Miller, Priest-in-Charge Sunday: Mass at 8 and 10am
July 2 9:30am Daughters of the King meets in Parish Hall
July 2 10:45am Prayer Group meets in Parish Hall
July 4 Thank God and our Veteran's for our freedom!
July 13 9am-1pm Thrift Shoppe Open
July 13 9am Hamlin Clergy Meets at Salem UMC
July 16 10:45am Prayer Group meets in Parish Hall
July 17 10-noon; 5-7pm Free Clothing Event @ Thrift Shoppe
July 21 11:30am Saint John's Parish Nursing: Picnic to Planning Wishes
July 27 9am-1pm Thrift Shoppe Open
July 28 11:30am Vestry Meets in Parish Hall
Phone: 570-689-9260 Office hours: Mon., Wed., Fri. 10 am-3 pm Email: saintjohnshamlinpa@gmail.com
Website: saintjohnhamlin.org
Please contact us anytime! Worship Each Sunday at 8am & 10am
Please follow us on Facebook, Twitter and LinkedIn
---
Do you have a wish you want fulfilled?
Saint John's Parish Nursing has FIVE we would like to share with you!
On Sunday the 21st of July at 11:30 – why not come to a Picnic to Planning session at Saint John's Parish Hall for making sure your last wishes are fulfilled according to your own desires. Five Wishes is changing the way we talk about advance care planning.
On this day you will be provided with: 1) Lunch 2) A Workshop on Advanced Directives Planning
3) Legal documents that are easy to understand and use
4) Techniques to make your wishes known for medical, personal, emotional and spiritual needs. 5) A guide to help structure discussions with your family and physician, making conversations easier. Five Wishes is a complete approach to discussing and documenting your care and comfort choices. It's about connecting families, communicating with healthcare providers, and showing your community what it means to care for one another. Please let us know if you are able to join us for this event by responding to this email or calling St John's 570-689-9260
---
Thoughts from our Priest-in-Charge:
8 July 2019
My dear people, Yesterday was a real "wow" Sunday – our attendance at the 8am Mass was 18. That's a crowd – for that hour – on a holiday week-end. The 10am attendance wasn't as vigorous but not bad. I recall a number of 21. However many or few gather, we believe, teach and confess that Christ is with us in our gathering. Can you remember as far back as Christmas? (There are even those who celebrate "Christmas in July!") Q: What did they name that baby? A: Immanuel. What's in a name? Well, that name means: "God with us." That is precisely why virtually every time we gather we celebrate 'Mass' – the Last Supper – the Holy Communion – the Eucharist (which, translated means 'thanksgiving'). We celebrate that meal to remember that not only at the birth of Jesus but in the very last moments of his life, he himself gives the promise that GOD IS WITH US when we gather in his name. Then it is that we faithfully RE-MEMBER, at the same time as we experience, Christ's presence with us, really, at mass. Yesterday we encountered some very powerful words from Jesus, recorded in Luke 10: "Whoever listens to you listens to me, and whoever rejects you rejects me, and whoever rejects me rejects the one who sent me." There can be no question what this means. It is a simple statement of our INCARNATIONAL THEOLOGY. That is our belief that together, as the church, we constitute the living Body of Christ in the world today. We believe that if Christ is going to be heard today, as we hear and believe Christ, that will happen only as we live out our faith in the world today. As we were thinking about these things, Pastor Alan Shumway spoke out and said that means taking care of children on our borders – for no other reason than they have need, and for no other reason than for Christ's sake. Although I teased him for 'stealing my punch-line,' I was very grateful to have the voice of another clergy person from a different ecclesiastical and liturgical tradition affirm our posture, and confirm our Mission Statement to "welcome all people to embody the love of Christ!" Thanks, Alan, for that. INCARNATIONAL theology means that what we believe is acted out in how we live. Our model for that kind of living is Jesus. Jesus did NOT do what he did to encourage God to love him. Jesus KNEW he was loved, and that he was God's own child. So do we. And we follow the example of Jesus not to gain God's graces but because we know that all that we have and are are God's gifts to us. When I asked the question what in the world do we have to give God that God doesn't already have or might need, Joan Griffin responded: "To love each other." How right she is. So, like Jesus, no matter what the arguments, excuses and 'religious' cleverness which tempt us to believe otherwise, we KNOW that the object of the Parable of the Good Samaritan is to teach us that anyone in need is our neighbor! And, we do know what to do about that. Another really special gift at mass yesterday was a young visitor – Ben, from Staten Island – who happily responded to an invitation to serve during mass. So he was the crucifer, Gospel book bearer, and altar assistant. He was not only willing to serve – he sang well! The church really is universal. It's pouring rain, yet again, as I write to you. Let all that water remind us and recall to us our own baptism into the Body of Christ and encourage us to do his work and his will in his world today. There' a lot of water, there's a lot of work and as we read on Sunday – the laborers are few. However few or many, we know GOD with us: Immanuel! And if God is with us, who can be against us?
Bless you, one and all,
Father Ron
P.S. Canon Jay Gordon had some week-end guests with him at the 8 am mass who were from the Dominican Republic and the Words of Institution over the bread were offered in Spanish. Have you seen the sign board out front welcoming everybody to St. John's? The message is in English, Spanish and Polish. Thanks to Karen and Paul Fels for that!
Fr. Ron
Thoughts from our Priest-in-charge:
3 July 2019
My dear people,
This past Sunday we thought about the appointed lessons and re-visited old ideas the church thought were important enough to enshrine in Scripture.
We reflected on Elisha being covered with Elijah's mantle and beginning to experience what would become the fulfillment of his eventual desire to inherit – if only a fraction – of Elijah's spirit. It's astounding what the 'cost' is to Elisha when he begins to respond : he immolates 12 yoke of oxen and feeds the people! There's not much subtlety in that story of what it costs to follow a prophet and what the purpose of doing so is. To follow a prophet occurs at great personal expense and directly benefits the poor and the hungry.
There are those who would ask us, as religious people: "What people are we to feed?" And, we all know the answer to that one: "Feed your neighbor. ESPECIALLY the hungry ones!"
Others, we know, will then ask us: "Well then, WHO is my neighbor?" That question implies a bias on the part of the asker, in the first place. That kind of question is already looking for the rules, the boundaries, the limits of those I am expected to feed, and those I am neither expected to nor required to feed. That question would really be better phased as: "Whom do I NOT HAVE to feed?"
We remember the parable of the Good Samaritain, in which Jesus uses the "bad guy" (i.e. the Samaritan) to be the "good guy." Samaritans and Jews knew their boundaries. The Jews' holy place was the Temple Mount in Jerusalem and the Samaritans' was Mount Gerizim. And, although they shared a common ancestry, each group knew – self-righteously – that it was right and the others were wrong. How often has our own sense of 'religion' looked like that?
So, I'm sure you can see where this is going! The question really becomes: "What are the RELIGIOUS REASONS NOT to feed the hungry?" The assumption is, of course: "If the hungry person is not close to me physically or related to me somehow genetically or socially (i.e. a neighbor), I therefore do NOT have either the moral or legal responsibility or obligation to feed him or her!"
Jesus smelled that one coming a mile away. So that's when he told the story of the "Good Bad Guy!"You know the story well – because we are all embarrassed by it every time we hear it! Aren't we?
So we all know that the Samaritan does what the Priest and the Levite (the 'good religious people') will NOT and do NOT do – for RELIGIOUS REASONS!
The Samaritan, remember, was despised by the Priest and the Levite and their kind of religion, for RELIGIOUS REASONS!
But we all know that Jesus' understanding was – and the purpose of the parable was to teach – that the Samaritan WAS IN FACT really religious and the Priest and the Levite – despite all their piety, holiness, and understanding of the law and order of their religion – were simply NOT RELIGIOUS at all!
So, in the Second Lesson from Galatians 5, we read and thought about what Paul means when he reports that: "…the whole law is summed up in a single commandment, 'You shall love your neighbor as yourself.'" Which leads to the lawyerly question "Who is my neighbor?" And to the genuinely Christian answer that Jesus supplies in the context o the story of the 'Good Bad Guy.'
Some come to the conclusion that the Parable of the Good Samaritan is that the neighbor figure in the parable is the man who shows mercy to the injured man—that is, the Samaritan.

O.K. I get that. BUT I believe a better 'conclusion' is to arrive at an understanding that ANY PERSON IN NEED BECOMES A NEIGHBOR TO ANY REALLY RELIGIOUS PERSON! So, go ahead and argue all you want that the Priest and the Levite were really religious. Jesus argues that the "Bad Guy" was in fact the "Religious Guy" because he addressed human suffering and need by dressing wounds and caring for a man in need for no other reason than that the needy man was right in front of him. He didn't use just band-aids either, nor did Elisha. Twelve yoke of oxen, an inn, and the promise of long-term care are the perduring images of Jesus' understanding of what TRUE RELIGION looks like to the Christ!
What do you suppose Jesus' evaluation of our religion would look like?

Peace and love to you as you enjoy a safe holiday.
Fr. Ron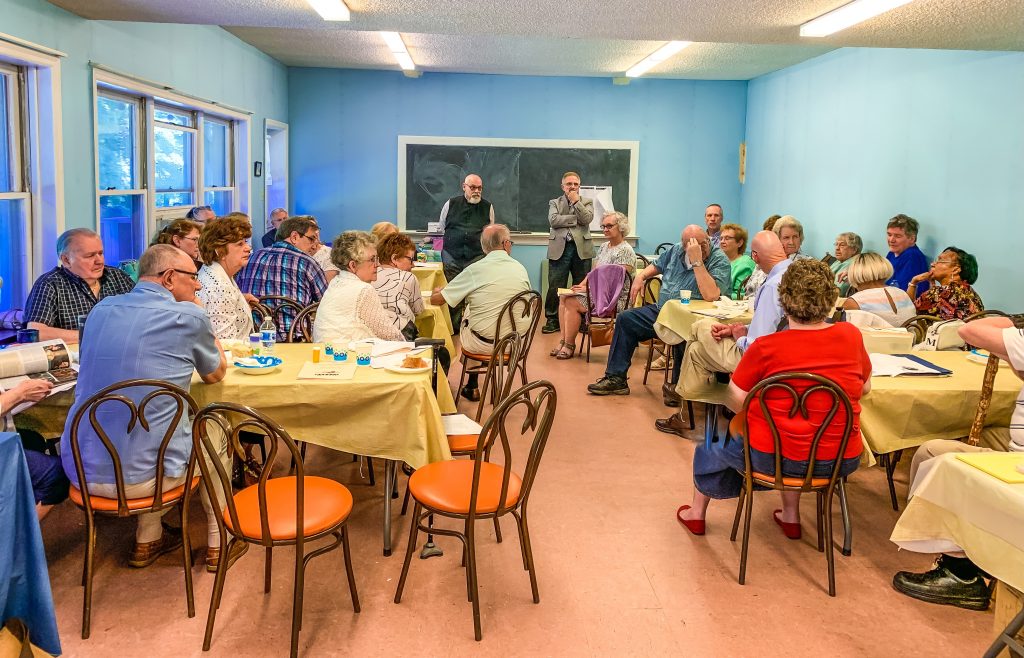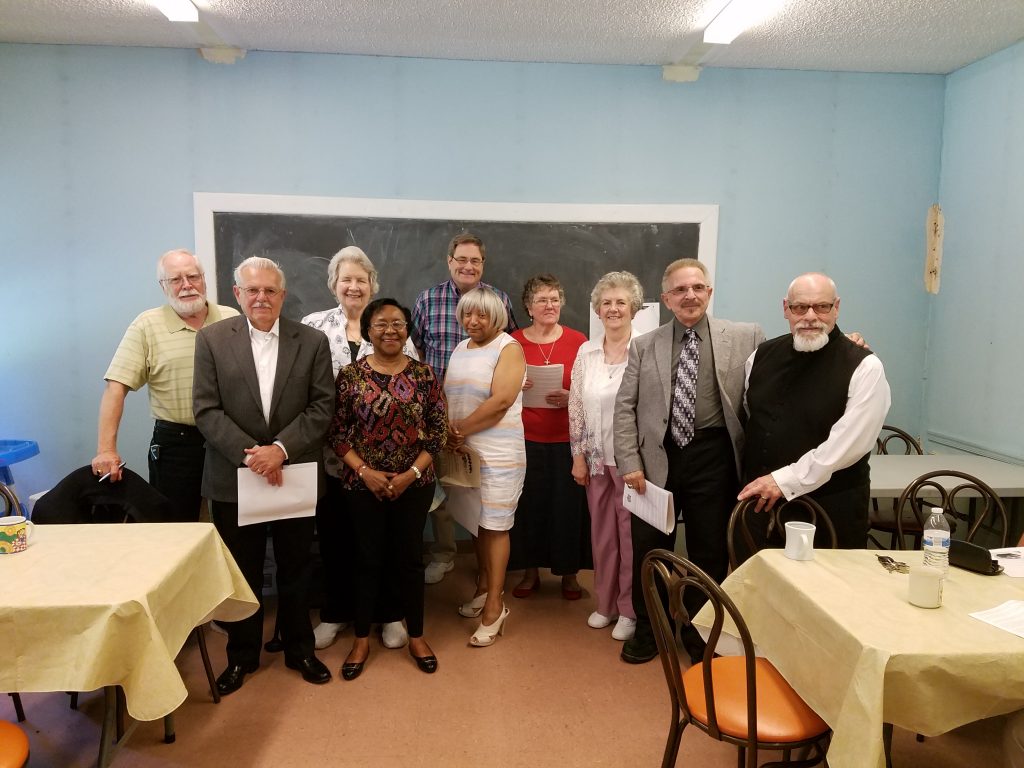 THOUGHTS FROM OUR PRIEST-IN-CHARGE
24 June 2019
My dear people,
It's not yet 5:30 am and the day is bursting with beauty. There is a half moon, fully-lit placidly shining its cool, clear light in the steel-blue western sky. In the east, above the mist and the silhouetted mountains which are higher than the earth-hugging clouds, the sky is broken with long horizontal strips of the first orange-gold-red light of a sun not quite-yet risen. That light paints the underside of striated grey clouds – and all of that paints a silent symphony of promise about the world we live in which is so much larger than ourselves, and the God we believe in, who is so much larger than our universe. It is all overwhelmingly beautiful. And yes, sometimes perspective is required to see such beauty.
Yesterday, after mass, we shared a lot of vision and perspective on the world of our richly-blessed congregation. We joyfully reviewed the good news of the reports of our work over the last year and celebrated the ministry and accomplishments which were ours during the last 12 months. We had good attendance, lots of food, we celebrated the birthdays of both Kathleen, our organist and Cheryl, our treasurer. We approved our goals for the coming year. And, we continued our trajectory of inclusivity. I was so delighted that when time came to fill two vestry positions and there were three names, instead of electing only two people, the decision was made to expand the vestry to include all three! Wow!!! What a great idea. How typical of your life and work and creativity and freedom to be the ever-expanding Body of Christ we claim to be as Christians. In short, we had fun, got our business done, and committed ourselves to another year and a much longer future of doing what we are called to do: "Welcome all people to embody the love of Christ."
If you missed the meeting there are still copies of the bulletin of reports for you to have at church.
I never thought I'd live to see the day when an annual business meeting could be both as much fun and as productive as ours was yesterday.
Keep the faith and keep up the good work.
God bless you, each and every one.
Fr. Ron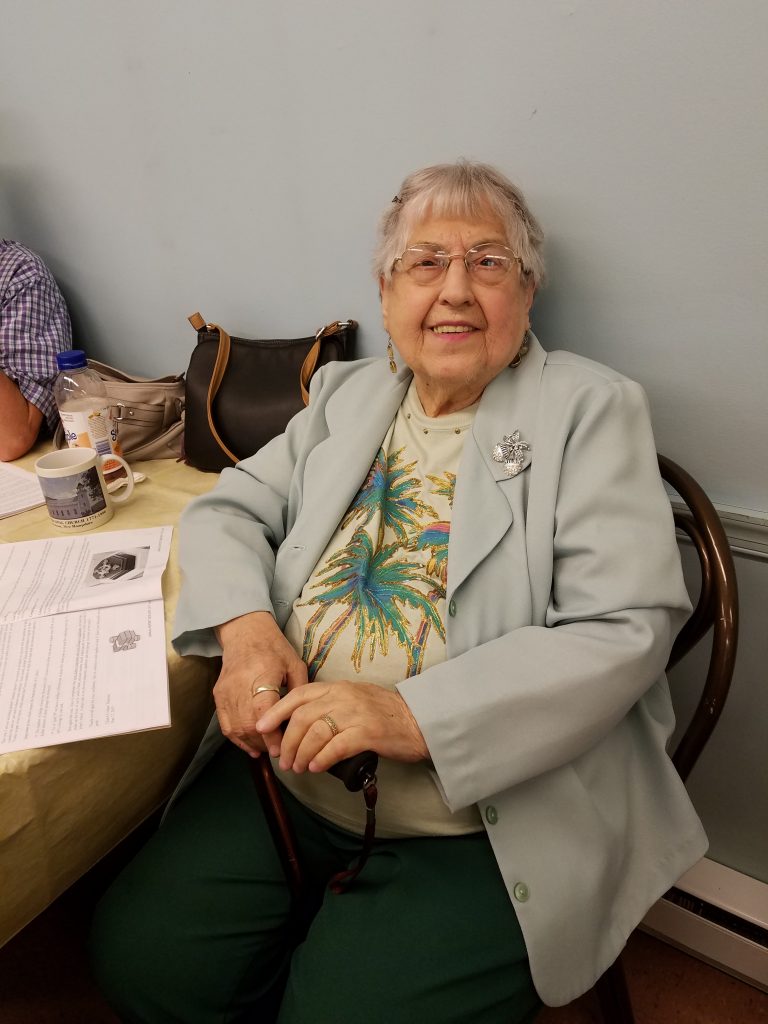 17 June 2019
My dear people,
Yesterday we did our best to struggle with 2,000 years of theological, political and ecclesiastical history surrounding the theology of the ONE HOLY AND UNDIVIDED TRINITY. I took delight in being told that the sermon was a "stem twister!"I'm not quite sure what that meant – but I knew it meant that the sermon was NOT soporific. That is we weren't sleeping! Rather, we were struggling with ideas which, in the end, we have to confess are mysteries beyond our comprehension. If you want to continue the challenge, look at pages 864-5 of your Prayer Book and re-visit the Quicunque Vult otherwise known as the Athanasian Creed. Have fun with that! That may really twist your stem! It certainly does mine.
REMINDER: ANNUAL MEETING this coming Sunday, 23 June, immediately following the 10am Mass. Lunch provided and a very good time expected. There's lots of GOOD NEWS to report. Your attendance is important! A quorum is necessary to conduct business. In order for the whole congregation not to have such a 'corporate meeting' every month, your elected Vestry does that in your stead between annual meetings. So please be sure to be present to participate in the corporate structures and affairs of the congregation we all love so well.
Now, here's a church sign, sent to me by my friend Ruth who lives in Toms River, NJ. I usually find such messages too self-righteous and turgid for my tastes – and often, I believe, NOT reflective of the Gospel. This one, however, hit the mark, for me!

God's richest blessings be yours, In Christ
Fr. Ron
P.S. Yesterday, Judy Restaino showed me pictures she had taken in Rome of the oculus in the Pantheon (through which rose petals are showered down on Pentecost!) and the drain holes in the floor below, to carry away the rain! I was delighted that we were both interested and have both seen those wonderful places and things.
PENTECOST SUNDAY 2019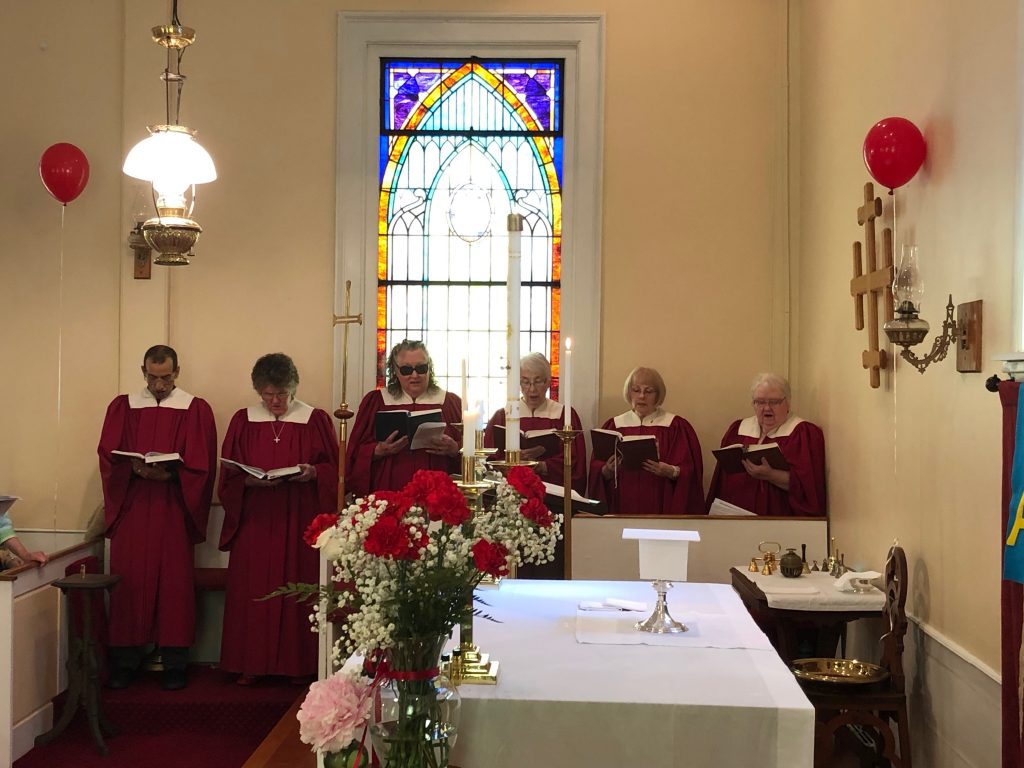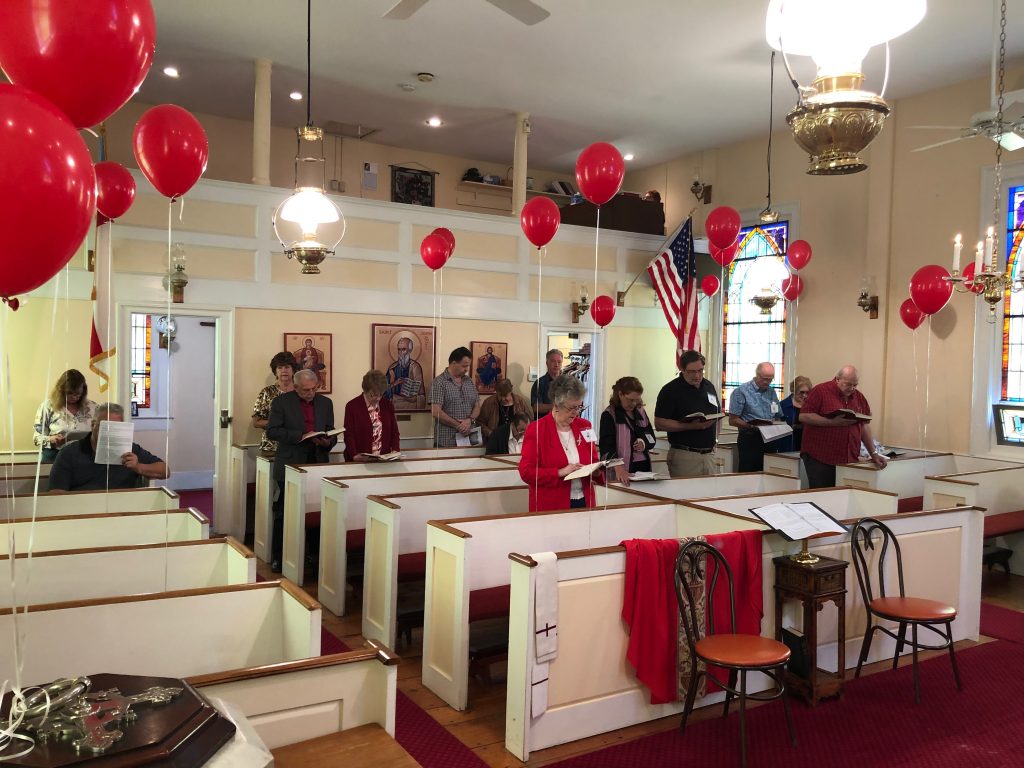 St. John's Episcopal Church
Events for June, 2019
Sunday: Mass at 8 and 10am; Sunday School after 10am Mass
Fr. Ronald R. Miller, Priest-in- Charge
June 2 11:30am – ish Altar Guild Meeting
June 4 9:30am Daughters of the King meets in Parish Hall
June 4 10:45am Prayer Group meets in Parish Hall
June 8 8am-noon Salem Township Clean Up Day
June 8 9am-1pm Thrift Shoppe Open
June 9 7pm Joyful Hearts Chorus at Newfoundland Moravian
June 12 10-noon & 5-7p Free Clothing Event @ Thrift Shoppe
June 18 10:45am Prayer Group meets
June 22 9am-1pm Thrift Shoppe Open
June 23 11:30 – ish Annual Meeting in Fellowship Hall
Phone: 570-689-9260
Office hours: Monday, Wednesday, Friday from 10am to 3pm
Email: stjohnshamlin@verizon.net
Website: saintjohnhamlin.org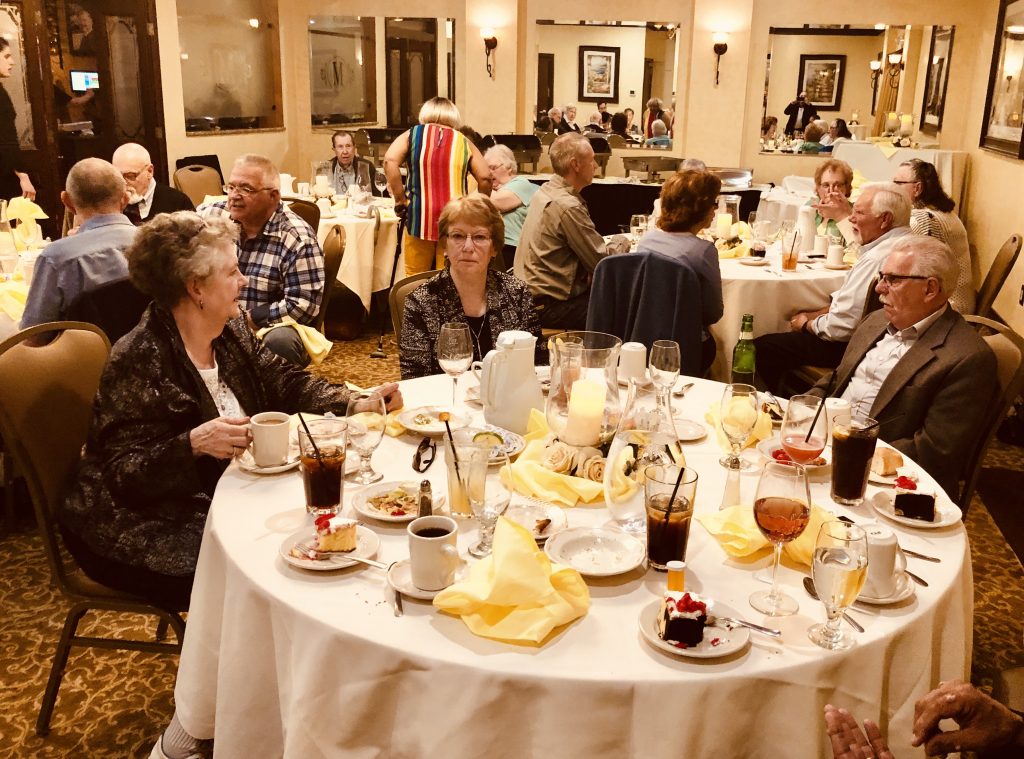 may 2019 events
May 3rd 8 & 10am Easter 3 – Rev'd. Elizabeth Haynes preaching
May 7th 9:30am Daughters of the King (DOK) meets
May 7th 10:45am Prayer Group meets
Committee Chairs: Have you submitted your report for the annual report?
May 11th 9am-1pm Thrift Shoppe open
May 12th 8 & 10am Easter 4 – Rev'd. Ron Miller preaching
May 13th HEADCOUNT TO BE GIVEN TO MENDICINO'S FOR PLANNING DINNER
May 15th 10-noon/5-7pm Free Clothing Event at Thrift Shoppe
May 15th Deadline to submit your committee's report to church office (to Beverly)
May 17th 6pm Planning Session – dinner/discussion at Mendicino's
May 18th 10am Finalize Planning Session-Fellowship Hall w/Luncheon
May 19th 8 & 10am Easter 5 – Rev'd. Ron Miller preaching
May 19th 11:30am Vestry monthly meeting
May 21st 10:45am Prayer Group meets
May 25th 9am-1pm Thrift Shoppe open
May 26th 8 & 10am Easter 6 – Rev'd. Ron Miller preaching
THANK YOU TO THE PEOPLE OF ST. JOHN'S CONGREGATION FOR THE LOVELY SECRETARY'S DAY FLOWERS 🙂 VERY THOUGHTFUL!!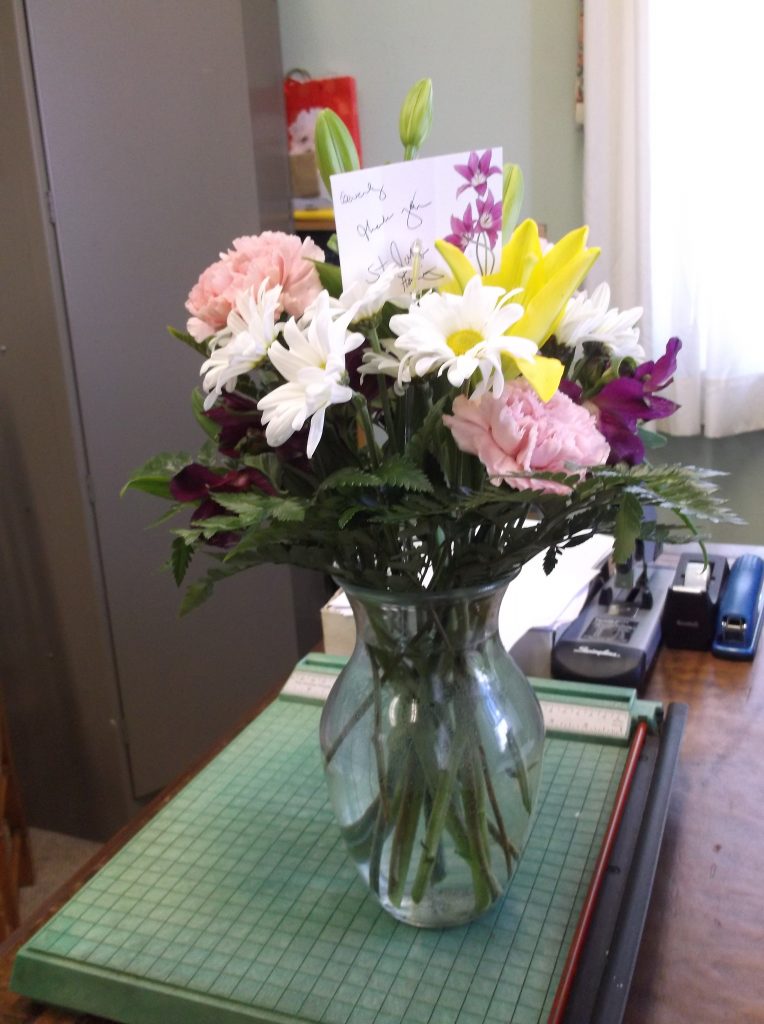 ---
Hill's Pet Nutrition is expanding its voluntary recall of canned dog food products due to elevated levels of Vitamin D. This expansion relates to the same vitamin premix that led to the January 31st voluntary recall. Please review the full list of recalled products below including the additional products added March 20, 2019. Additional information to follow.
****If your SKU, Date & Lot codes are found in the U.S.list below, you have an affected product and should stop feeding it and should return to the place of purchase for a full refund****



| | | |
| --- | --- | --- |
| PRODUCT NAMe | SKU NUMBER | DATE CODE/LOT CODE |
Hill's Prescription Diet k/d Kidney Care 2697 102020T25
with Lamb Canned Dog Food 13oz, 12pk

Hill's Science Diet Adult Perfect Weight 2975 092020T28
Chicken & Vegetable Entree dog food
12 x 12.8oz cans

Hill's Prescription Diet c/d Multicare Urinary 3388 102020T18
Care Chicken & Vegetable Stew Canned
Dog Food, 5.5oz, 24 pack

Hill's Prescription Diet i/d Low fat canine 3391 092020T27
rice, vegetable & chicken stew 24 x 5.5oz
cans

Hill's Prescription Diet r/d Canine 12×12.3 7014 092020T28
oz cans 102020T27 102020T28
Hill's Prescription Diet c/d Multicare Canine 3384 092020T29
Chicken & Vegetable Stew 12.5oz 102020T10
102020T25

Hill's Prescription Diet i/d Canine chicken 3389 092020T28
and Vegetable stew 12.5oz 102020T24
102020T25 102020T04
102020T10 102020T19
102020T20


Hill's Prescription Diet i/d Canine Chicken 3390 102020T11
and Vegetable Stew 5.5oz 112020T23
122020T07


Hill's Prescription Diet z/d Canine 5.5oz 5403 102020T17
112020T22

Hill's Prescription Diet g/d Canine 13oz 7006 092020T22
112020T19
112020T20


Hill's Prescription Diet i/d Canine 13oz 7008 092020T21
092020T30
102020T07
102020T11
112020T22
112020T23

Hill's Prescription Diet j/d Canine 13oz 7009 112020T20


Hill's Prescription diet k/d canine 13oz 7010 102020T10
102020T11


Hill's Prescription Diet w/d Canine 13oz 7017 102020T24
102020T25
112020T09
112020T10
092020T30
102020T11
102020T12

Hill's Prescription Diet z/d Canine 13oz 7018 102020T04
112020T22


Hill's Prescription Diet i/d Low Fat 10423 092020T27
Canine Rice, Vegetable & Chicken 092020T28
Stew 12.5oz 092020T24
102020T17
102020T19
112020T04


Hill's Prescription Diet Derm Defernse 10509 102020T05
Canine Chicken & Vegetable Stew
12.5oz



Hill's Science Diet Adult 7+ Small 4969 102020T18
and Toy Breed Chicken and Barley
Entree Dog Food 5.8oz


Hill's Science Diet Puppy Chicken 7036 102020T12
and Barley Entree 13 oz



Hill's Science Diet Adult Chicken 7037 092020T22
and Barley Entree Dog Food 13oz 102020T13
102020T14
112020T23
112020T24


Hill's Science Diet Adult Turkey & 7038 102020T06
Barley Dog Food 13 oz


Hill's Science Diet Adult Chicken & 7040 112020T10
Beef Entree Dog Food 13oz 112020T11
102020T13


Hill's Science Diet Adult Light with 7048 112020T19
Liver Dog Food 13 oz


Hill's Science Diet Adult 7+ Chicken 7055 092020T31
and Barley Entree Dog Food 13oz 102020T13


Hill's Science Diet Adult 7+ Beef & Barley 7056 102020T28
Entree Dog Food 13oz 092020T31
112020T20
112020T24


Hill's Science Diet Adult 7+ Turkey & 7057 112020T19
Barley Entree 13 oz


Hill's Science Diet Adult 7+ Healthy 10452 102020T28
Cuisine Braised Beef, Carrots & 102020T14
Peas Stew dog food 12.5oz. 102020T21




Consumer Contact:
Hill's Consumer Affairs
1-800-445-5777

St. John's Episcopal Church Events: April 2019
Mass ~ Sundays at 8am & 10am: Fr. Ronald R. Miller, Priest-in-Charge
Sunday School in Church after 10am Mass
Apr 2 9:30am Daughters of the King meets in Parish Hall
Apr 2 10:45am Prayer Group meets in Parish Hall
Apr 3 6pm Simple supper at Hamlin Assembly of God with 7pm Hymns
Apr 7 11:15am Pastoral Care Committee meets
Apr 12 6pm Stations of the Cross w/ 7pm simple supper
Apr 13 9am-1pm Thrift Shoppe Open
Apr 14 7am Men's Communion breakfast at Salem Comm. Church
Apr 14 8 & 10am Mass & Procession w/palms at St. John's for Palm Sunday
Apr 16 10:45am Prayer Group meets
Apr 17 10-noon & 5-7p Free Clothing Event @ Thrift Shoppe
Apr 18 6pm Maundy Thursday – Agape Supper at Newfoundland Moravian and Presentation hosted by St. John's at 7pm
Apr 18 7pm Mass of The Lord's Supper w/night prayer at 8:45pm at St. Thomas More in Lake Ariel
Apr 19 2pm Good Friday – St Mary's Ledgedale-Eucharist w/Veneration of the Cross; private devotion until 5pm
Apr 19 7pm Lakeville UMW Good Friday service
Apr 20 8pm Easter Vigil-Holy Saturday-St. Thomas More-Lake Ariel
Apr 20 8pm Easter Vigil – Holy Saturday at St. John's
Apr 21 8 & 10am Mass of the Resurrection at St. John's – please see Ecumenical Lenten Activities brochure for various Easter worship opportunities +
Apr 27 9am-1pm Thrift Shoppe Open
Apr 28 8 & 10am Easter 2 – Rev'd Elizabeth Haynes preaching
Apr 28 11:30am Vestry monthly meeting
Dear Family and Friends of St John's: Mark your calendar for Friday, May 17th. We will have our annual planning dinner on that evening at Mendicino's Italian Restaurant located on Route 435 in Moscow, Pa. Please join us for a great buffet and discussion with lots of fun. I will forward to you the price and other details as soon as it is negotiated. –Michael, Senior Warden
The funeral for our dear friend, Rev'd Hugh Miller took place Saturday, March 23, 2019 at the Moscow United Methodist Church. As you can see, it was well attended.
Rest in peace, Rev'd Hugh…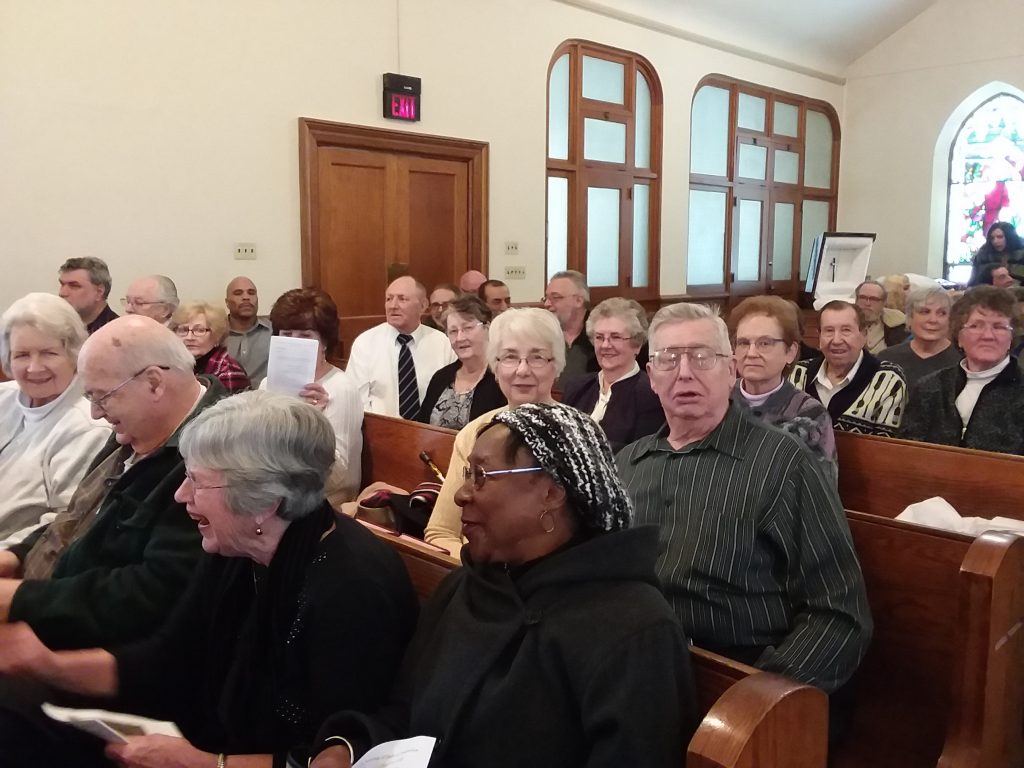 The Thrift Shoppe will be open from 9-11 am this Saturday, March 23rd instead of 9am-1pm so that we may attend Pastor Hugh Miller's funeral that day. Thank you all, Pat Ware
Our Thrift Shoppe will not reopen for the 5-7 free day shift today as we are holding an Ecumenical Lenten Evensong Service at 7pm with a Simple Soup Supper preceding in our Fellowship Hall at 6pm – Please join with us!
Lenten Events:
Shrove Tuesday March 5th
6pm Pancake Supper at St. John's – Hamlin
We will burn last year's palms and bury the
Alleluias for Lent while we enjoy food and fellowship!
Ash Wednesday March 6th
For Ash Wednesday, several services are planned to accommodate various faith traditions:
8:15am Mass and Imposition of Ashes at St. Mary's-Ledgedale
3:30pm Imposition of Ashes St. Thomas More-Lake Ariel
6pm Mass and Imposition of Ashes St. Thomas More-Lake Ariel
7pm Imposition of Ashes Salem Community-Hamlin
7pm Service with Imposition of Ashes St. John's-Hamlin
Special Ecumenical Events:
"Soup and Something" Fellowship Events held on the Wednesday nights during Lent:
March 13: St. John's-Hamlin
6 pm Simple Soup Supper
7 pm Evensong Presentation
March 20 Assembly of God-Hamlin
6 pm Simple Supper
7 pm Something
March 27 Salem Community-Hamlin
6 pm Simple Supper
7 pm Something
April 3 Hamlin Assembly of God
6 pm Simple Supper hosted with Salem Community Church
7 pm Hymn Singing
April 12 St. Thomas More-Lake Ariel
6 pm Stations of the Cross
7 pm Simple Supper
Holy Week Events: Please Join Us at 8am or 10am for Worship 🙂
Palm Sunday April 14th
7am Men's Communion Breakfast
Salem Community Church
8 & 10am Mass and Procession with Palms-
St. John's-Hamlin
Maundy Thursday April 18
Again, several services are planned to accommodate various faith traditions:
6pm Agape Supper hosted by St. John's-Hamlin at Newfoundland Moravian Church with Presentation at 7pm at Moravian Church
7pm Mass of The Lord's Supper with
Night Prayer 8:45 pm -St. Thomas More

v Good Friday April 19th
We have planned these events to accommodate all who wish to participate:
2 pm St. Mary's-Ledgedale Eucharist with Veneration of the Cross; with Private Devotion until 5 pm
7 pm Lakeville United Methodist
Holy Saturday April 20th The Great Easter Vigil
8 pm St. Thomas More-Lake Ariel
8pm St. John's-Hamlin
Easter Sunday April 21st
St. John's-Hamlin – 8am and 10am Mass of the Resurrection
St. Thomas More – 8:00 am and 11:00 am
Lake Ariel UMC – 9:00 am
St. Mary's-Ledgedale 9:30 am
Hamlin Assembly of God – 10:30 am
Lakeville UMC – 10:30 am
Salem Community-Hamlin – 9 am and 10:30 am
St. John's Episcopal Church Events: Mar 2019
Mass ~ Sundays at 8am & 10am: Fr. Ronald R. Miller, Priest-in-Charge
Sunday School in Church after 10am Mass
Mar 5th 9:30am Daughters of The King meeting at St. John's
Mar 5th 10:45am Prayer Group meeting at St. John's
Mar 5th 6pm Shrove Tuesday: Pancake Supper in Fellowship Hall: burning of palms and burial of the alleluias
Mar 6th 7pm Ash Wednesday Service with Imposition of Ashes at St. John's
Mar 9th 9am-1pm Thrift Shoppe Open @ St. John's
Mar 10th 8 & 10am 1st Sunday of Lent
Mar 13th 10-noon only Free Winter Clothing Event @ St. John's Thrift Shoppe – Morning Shift Only
Mar 13th 6pm Soup Supper with Ecumenical Evensong Service at 7pm at St. John's
Mar 17th 8 & 10am 2nd Sunday of Lent
Mar 17th 11:30am Vestry meeting
Mar 19th 10:45am Prayer Group Meets
Mar 20th 6pm Food followed by Program at 7pm at Hamlin Assembly of God
Mar 23rd 9am-1pm Thrift Shoppe Open @ St. John's
Mar 24th 8 & 10am Rev'd. Elizabeth Hayes Preaching – 3rd Sunday of Lent
Mar 27th 6pm Food followed by program at 7pm at Lake Ariel UMC
Please also see the Ecumenical Lenten Activities brochure for services and programs hosted by our Ecumenical church partners! It will be available in the very near future.
Please Contact us anytime! Church Telephone: 570-689-9260 Parish Office hours: Open Monday, Wednesday, Friday from 10am – 3pm Email: saintjohnshamlinpa@gmail.com Follow us on Facebook, LinkedIn and Twitter Website: saintjohnhamlin.org
Hats!
15 large hats going to a local cancer care facility; 33 medium and 35 small hats going to St. Jude's and a local Ronald McDonald house.
All hats made by the Eddins' family, including 7 and 10 year old Lauren and Taylor. Four more made by fellow church members of St. John's Episcopal Church.
Hats!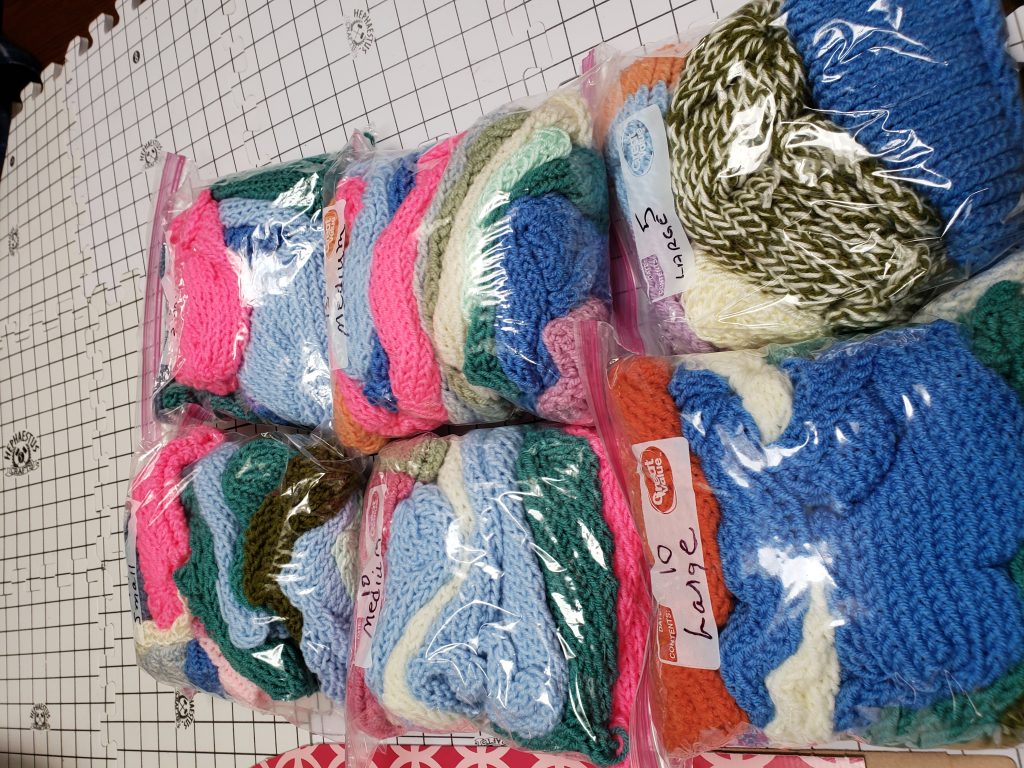 February 13, 2019: Due to the travel conditions, Pat Ware has informed me that there will be no free clothing event today. Thank you and be safe if you go out – very icy!
Please mark your calendars to join us in early March for two important events!
Mar 5th 6pm Shrove Pancake Supper @ St. John's Fellowship Hall- we will burn last years palms/and bury the Alleluias
Mar 6th 7pm Ash Wednesday Service at St. John's w/ Imposition of Ashes
February 2019:
Feb 5th 9:30am Daughters of the King meet in Parish Hall
Feb 5th 10:45am Prayer Group meets in Parish Hall
Feb 9th 9am-1pm Thrift Shoppe Open
Feb 13th 10-noon & 5-7p Free Winter Clothing Event
Feb 17th 11:30ish Vestry Meets
Feb 18th —– Federal Holiday – Office closed
Feb 19th 10:45am Prayer Group Meets in Parish Hall
Feb 23rd 9am-1pm Thrift Shoppe Open
Feb 23rd 11am Hamlin Clergy (bring lay person) @ Salem Commun.
MUSIC DIRECTOR POSITION AVAILABLE
ST. JOHN'S EPISCOPAL CHURCH IN HAMLIN IS LOOKING FOR AN ORGANIST/CHOIRMASTER FOR ITS 10:00AM SUNDAY MASS. THE IDEAL CANDIDATE WOULD REHEARSE THE CHOIR SUNDAYS BEFORE MASS AND ONCE DURING THE WEEK, IF POSSIBLE. FOR MORE INFORMATION OR TO APPLY, PLEASE CONTACT MICHAEL NIGRO, SENIOR WARDEN AT 570-8778-4944 OR EMAIL: sirarmand@echoes.net
St. John's Episcopal Church Events: Jan. 2019
Mass ~ Sundays at 8am & 10am: Fr. Ronald R. Miller, Priest-in-Charge
Sunday School in Church after 10am Mass
Jan 6th 11:30am Pastoral Care Meets
Jan 8th 9:30am Daughters of The King (DOK) Meets
Jan 8th 10:45am Prayer Group Meets
Jan 9th 11:00am Hamlin Clergy meets @ Salem Comm. Church
Jan 12th 9am-1pm Thrift Shoppe Open
Jan 16th 10-noon & 5-7pm Free Winter Clothing Event
Jan 20th 11:30am Vestry Meeting at Church
Jan 21st * Parish Office Closed * Federal Holiday
Jan 22nd 10:45am Prayer Group Meets
Jan 26th 9am-1pm Thrift Shoppe Open
Please Contact us anytime! Phone: 570-689-9260
Parish Office hours: Monday, Wednesday, Friday 10am-3pm
Email us: saintjohnshamlinpa@gmail.com
Please follow us on facebook, linkedIn and twitter
Website: saintjohnhamlin.org
Our Advent and Christmas Worship Schedule:
Fourth Sunday of Advent, December 23: Mass at 8 am and 10 am at St. John's

Christmas Eve Worship, Monday, December 24 at 10pm at St. John's

Christmas Day Worship, Tuesday, December 25 at 10 am at St. John's Come, Thou Long Expected Jesus

1st Sunday of Christmas, December 30: Mass at 8am and 10 am at St. John's ~ Service of Lessons and Carols at 10am.